4 key areas for firefighter strength training
Firefighting requires specific types of strength-building exercises to prevent on-the-job injuries
---
Updated Aug. 8, 2017
Whether dragging victims from a building or simply humping hose around the fireground, firefighting demands certain types of physical training in order to perform the job safely and effectively.
Traditional firefighter conditioning has revolved around cardiovascular training such as jogging or treadmill work. But the real world dictates that firefighters must have cardiovascular function with nearly 50 pounds of gear on their bodies.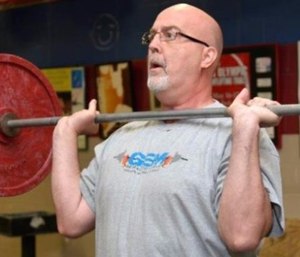 This changes the equation drastically when it comes to being in shape. It dictates that maximal strength and the highest level of anaerobic endurance must be obtained.
To some extent, maximal strength can dictate how much endurance you have. If your maximum-effort dead lift is 200 pounds and you're asked to carry a 200-pound person, you won't be moving that person far before running out of energy.

On the other side, if your dead lift is 600 pounds, then a 200-pound person can be moved with relative ease because it only requires 33 percent of your maximal strength.
3 problem areas in firefighter fitness
Statistics show that most firefighters' physical injuries involve the lower back, knees and shoulders. This is where strength training takes a specific route to bring up strength and decrease injury.
1. Lower-back injuries
Lower-back injuries often come from lifting heavy patients. Any firefighter who has run ambulance calls has come across residents who weigh between 300 and 500 pounds, or more in rare cases. Obviously, firefighters need to be strong enough for that type of duty.
Injuries occur here due to weak lower back muscles, little-to-no hamstring strength and improper technique while performing a task. The first issue is to bring up the lagging muscle groups, then teach form in order to be mechanically sound.
Back exercises:
Reverse hyper extension – This builds important lower erectors and glutes while tractioning the lower back.
Glute ham raises – This strengthens the hamstrings, glutes, lower back and calves. Working them with this exercise teaches all the posterior chain muscles to work together as they do on duty.
2. Knee pain
Knee issues can be more complicated, but often firefighters beat their knees up by having weak hips and hamstrings. When jumping, jogging and carrying equipment at a fast pace, the hips and hamstrings must take their share of the work. If they are lacking in strength, the knee extensors attempt to complete the work. Over time, this over use of the knee starts to take its toll.
Pain and injury occurs here due to weak hamstrings, hips, vastus medialus muscles and improper form. Once the hamstrings get stronger, knee pain and injury decreases.
Knee exercises:
Glute ham raise – This builds the hamstring in a functional environment.
Straight leg deadlift – This strengthens the hamstrings in a way they will be required to work.
3. Shoulder pain
Shoulder pain, tendonitis and injury usually start with a weak upper back. The upper back – which includes the lats, rear delts, rhomboids and sub scapular muscles – needs to be strong in order to hold the shoulder joint in place under strain and to maintain correct posture while performing various tasks.
Shoulder exercises:
Rear delt row – This directly builds the rear delt and sub scapular muscles.
Bent over row – This builds the lats and also the rhomboids, traps.
Lat pulldown – This builds the lats, rear delts and most minor muscles groups of the back.
Firefighter cardiovascular endurance
Working on your cardiovascular endurance is important in maintaining your overall health and aiding your recovery. Many firefighters remain on the job well into their 50s; and some, especially volunteers, remain past 70.
High-impact activities, such as jogging, over time will increase injury and wear on the knees, back and hips. Therefore it is important to gain endurance with the least amount of negative impact on the skeletal system.
Sled dragging is one of the best overall tools to develop conditioning while building muscle in important areas. There is virtually no joint impact and with the proper weight can be just as intense as running is on your heart, lungs and lactic acid tolerance.
Dragging the sled backwards is similar to dragging people out of buildings.
Kettlebell swings are a very tough cardiovascular drill and very quickly improve the conditioning level of firefighters. I have seen U.S. Army Rangers buckle to the floor with 60 pounds in less than 5 minutes while doing swings, while it was no biggie for these guys to run more than 10 miles.
A strong lower back and abdominal base must be built before using this exercises with anything more than 25 pounds. The benefits of using a kettlebell is no joint impact and a great workout for the cardiovascular system and much of the entire muscular system.
Training on the job
It is important for firefighters to train at an optimal level of volume and intensity when on duty or scheduled for duty within 24 hours. 
Firefighters must still be able to perform their job at any moment while on their shift. Totally wrecking the crew will not be optimal for a possible fire or other emergency. This is why training must be individualized for each person.
These issues represent 90 percent of the problems I have seen in the four years of working with a large fire department. The variety of ages and body types means that training will require different starting points and constant revision to keep individuals progressing.