Veterans from around U.S. train to be wildland firefighters
Team Rubicon, a nonprofit group led by veterans that responds to disasters, gathered in Tallahassee to learn skills necessary to help with wildfires
---
By FireRescue1 Staff
TALLAHASSEE, Fla. —A group of veterans from around the U.S. gathered in Tallahassee to learn how to be wildland firefighters.
WTXL reported that Team Rubicon, a veteran-led nonprofit that aids in disaster response, attended training conducted by the Bureau of Land Management to learn the skills necessary to respond to wildfires.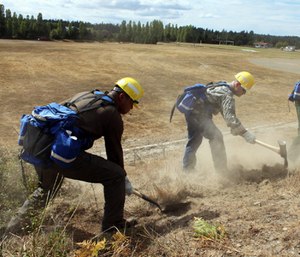 The veterans learned how to construct a fire line and how to operate necessary equipment in real-life scenarios.
Those in attendance said responding to disasters is a way for them to give back to their country after their military service ends.
"Everyone's here for the same purpose, and that really helps everyone grow together, and that's something you can't really find," Team Rubicon member Dwight Hargett said.
"I knew I wanted to be part of a disaster response, and work with veterans and civilians again, especially since I miss being in the military," Team Rubicon member Aja Anderson said.
Trainers said veterans already have the necessary skills and motivation needed to battle wildfires, and the training makes the connection to help veterans put those skills to use.