Wash. fire department forms in-house training program
Instructors tout the inaugural program as cost-effective, incorporative of department-specific techniques and convenient for recruits
---
Jack Heffernan
The Columbian, Vancouver, Wash.
CAMAS, Wash. — When he found out earlier this year that the state Fire Training Academy would not be available to the department's five recruits, Camas-Washougal Fire Battalion Chief Kevin Villines scrambled.
Villines learned that the academy in North Bend would be closed indefinitely for remodeling. He called nearly every department in the state to make arrangements at their facilities but found each one to be either cost-prohibitive or fully occupied.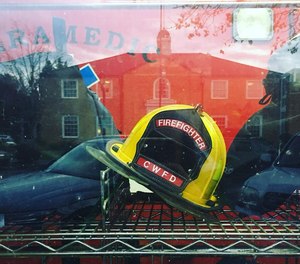 "It seemed other departments were having the same problem," Villines said.
So, the department decided to train its recruits itself. Early into the 12-week program, which began April 1, the department has noticed a number of benefits and believes it may have found a long-term solution.
Villines coordinated with Longview Fire Battalion Chief Troy Buzalsky, who contacted Bill Benjamin, fire protection technology program specialist at Portland Community College. With a combined nine recruits between the departments, the college agreed to hold a training program at Camas-Washougal Fire Station 42.
Instructors tout the inaugural program as cost-effective, incorporative of department-specific techniques and convenient for recruits.
"It's better for the recruits. It's better for the fire department," Benjamin said.
At the end of the program, recruits will earn the same certification they would have obtained in North Bend. But the new course eliminates much of the need for retraining tailored to department-specific practices.
"When they get done with the academy, they should be able to go out and go to work," Benjamin said.
One major advantage is that recruits can practice with equipment they will actually use when they start work. For instance, when rapidly assembling their breathing apparatuses, Longview firefighters work with long and thin cylinder tanks while Camas-Washougal recruits handle shorter, rounder ones.
"This has to be second nature for them," Benjamin said. "You have to be able to do this in your sleep, in the dark and in bad weather."
Instructors also enjoy being able to watch recruits from their department more closely, Villines said. "If someone's struggling, we can see that."
After reimbursements from the state, the North Bend program cost the department $5,000 per head, Villines said. Since the program also runs Monday through Thursday for 12 weeks, the department also had to pay for lodging and meals as well as a department vehicle and fuel for travel.
The new program, on the other hand, costs $500 per recruit after reimbursements, and the nine trainees also avoided spending more than half of each week away from home.
"They would return home on Thursday nights after class, often quite late due to Seattle-Olympia traffic," Villines said. "They had the weekend with their families, then return to North Bend on Sunday evening."
After applying and being hired, recruits were not entirely sure at first where they'd be training. But they weren't caught off-guard.
"They were up front that we wouldn't know, necessarily, if we were doing North Bend," said Thomas Meacham, a Camas-Washougal recruit.
It's also been valuable to learn how another fire department operates, said Tyler Traver, a Longview recruit. "So just more tools in the toolshed."
One of the hopes is that recruits will build camaraderie during training, Benjamin said. He admitted that's easier when recruits spend more time with each other as they do in North Bend.
"You're stuck with each other," Benjamin said. "There may be a loss of camaraderie here, but I don't think it's a significant amount."
Other departments, like Portland Fire & Rescue, also offer in-house training programs, Benjamin said. At PCC, Benjamin teaches generic firefighting techniques, so the Camas-Washougal program has been an adjustment.
"It's definitely against how we've been doing it for some time," Benjamin said.
When the training program is complete, the Camas-Washougal recruits will be assigned a shift and begin their probationary year. In the meantime, they'll learn from their own bosses, and others, how to perform their jobs.
Wednesday, for instance, Graham Lasee, a firefighter-instructor from the Longview Fire Department, taught trainees how to best hold a standing 28-foot, 100-pound ladder by themselves. He then realized something.
"You guys don't do one-person 28s do you?" Lasee asked a Camas-Washougal recruit.
Nonetheless, the recruit studied him.
———
©2019 The Columbian (Vancouver, Wash.)
McClatchy-Tribune News Service