NY city FD loans fire truck to neighboring FD
The loaner fire truck became necessary after the rear axle of the department's 1996 Ford pumper became detached while it was being driven to a call last week
---
Tom Graser
Watertown Daily Times, N.Y.
OGDENSBURG, N.Y. — A loaner from the Rensselaer Falls Volunteer Fire Department is keeping the Ogdensburg City Fire Department fully equipped.
The loaner became necessary after the rear axle of the department's 1996 Ford pumper became detached while it was being driven to a call last week.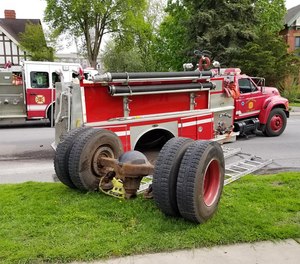 Ogdensburg City Fire Chief Michael J. Farrell said he is waiting for an estimate to repair the 23-year-old truck.
The pumper, Chief Farrell said, is the third truck used in city calls and the truck most often used in mutual aid standby calls.
The truck is particularly useful in mutual aid calls because of its high water capacity.
Chief Farrell said the truck carries 1,000 gallons of water and eliminates the need to set up draws or to immediately hook to hydrants.
The truck is limited in that he can only carry three firefighters.
While the estimate on repair costs is expected Friday, Chief Farrell said the truck was in line to be replaced.
"The truck cost $100,000 when it was bought in 1996," Chief Farrell said. "A replacement will cost a lot more than that now."
Before the incident, he said the truck was in line to be replaced in "a year or two."
When the axle fell off the truck it was on its way to the scene of a methamphetamine arrest in the city where three people were arrested and police said they found two active "one-pot" methamphetamine manufacturing devices.
It was in the vicinity of the city library when the truck malfunctioned.
No one was hurt in the incident.
———
©2019 Watertown Daily Times (Watertown, N.Y.)
McClatchy-Tribune News Service