One Meridian Plaza: 3 firefighters killed during unimaginable blaze
The tragic fire that proved the value of automatic sprinklers in high-rise buildings
---
On Saturday, Feb. 23, 1991, fire ignited on the 22nd floor of the 38-story Philadelphia high-rise office building known as One Meridian Plaza, located in City Center at the corner of 15th Street and South Penn Square. The fire was first reported at 8:40 p.m.
The fire attack efforts of the Philadelphia Fire Department were hampered and challenged at every turn, with the fire marching upward until it finally reached a floor that had automatic fire sprinklers.
Over 300 firefighters responded to the unimaginable scene. Three gave their lives in the line of duty: Captain David P. Holcomb, 52; Firefighter Phyllis McAllister, 43; and Firefighter James A. Chappell, 29.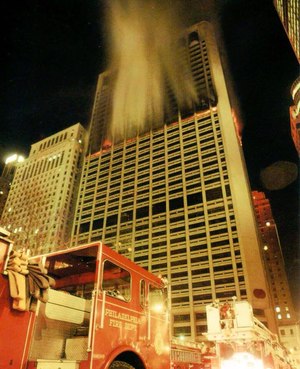 The devastating fire was later traced back to spontaneous combustion in a pile of linseed oil-soaked rags left behind by workers.
Contributing factors
As is often the case with disastrous fires, many factors were found to have contributed to the outcome. Various building systems intended to support emergency situations failed, resulting in significant impact to firefighters:
Delayed notification
Locked stairwell doors impeding firefighter access
Early loss of electrical power
Subsequent failure of the emergency generator
Problem with pressure relief valves on the standpipe system
Lack of complete coverage with automatic fire sprinklers
The problems began long before the firefight, however.
Building upgrades in progress
The 19-hour fire was hardly under control before questions emerged. For one, how could a modern, fire-resistive high-rise located in a major metropolitan city protected by a large, well-trained fire department be so heavily damaged by fire?
Firefighting professionals in all major developed countries knew the answer from past experience: A fire department simply cannot be expected to provide the level of fire protection required by a modern high-rise building. If firefighters are to have a chance of success with a high-rise fire, protection must be built-in, tested and inspected regularly, plus it must work when needed, and backup systems or plans must be in place.
In 1972, when One Meridian Plaza was built, Philadelphia was still enforcing a 1949 building code that made no distinction between very tall buildings and buildings of common heights. In 1984, Philadelphia adopted new codes – codes that required automatic sprinkler systems in all new buildings – but without a retrofit requirement for existing structures. In 1988, the building's owners made plans to retrofit with automatic sprinklers by late 1993. By 1991, four floors had been retrofitted with fire sprinklers, and three other floors were partially protected.
The change had not come soon enough.
Firefighters face challenges, untenable conditions
Philadelphia firefighters faced hurdles before they even reached the fire floor. As firefighters reached the halfway point of their ascent, the building lost power due to cable damage from heat. The emergency generator then failed, eliminating lighting and emergency elevator operation. Firefighters carried their equipment and tools up the many flights of stairs in darkness. They also found that stairwell doors were locked further impeding quick access.
Transformers supplying power to neighboring buildings were also compromised. This left firefighters operating hoselines from the upper-story windows of adjacent buildings without the lift of working elevators. Fire suppression efforts were also hindered by improperly set pressure relief valves on the standpipes, leaving fire crews without sufficient pressure for nozzles to function as designed.
As the fire progressed upward, a crew from Engine 11 was ordered to vent a stairwell so that other crews could advance. The three-member venting crew became disoriented in the heavy smoke and darkness, and called for assistance. The crew was given permission to break a window, which may have helped some. Helicopters were used to shine their lights into windows in hope of finding the firefighters. The attempts failed. Once the broken window was finally located from the exterior, a crew proceeded to their location, found the three members unconscious and removed them to medical triage. Resuscitation efforts were not successful.
After 11 hours into the struggle to gain control of the fire, the situation looked especially dire. Firefighters were worn down physically and mentally. The building's structural stability was questionable. The adequacy of the water supply system was still critical, leaving hoselines inadequate for the fire suppression task at hand.
Firefighters had taken floors 22, 23 and 24 of One Meridian Plaza through hard, physical firefighting. But with the fire on floors 25 and 26 raging out of control and beyond being taken with hoselines, the sum total of damage to contents, the possible structural damage, and the three lives lost drove a call to abandon the building and shift to defensive operations.
By Sunday afternoon, the fire's upward advance slowed when it reached the 30th floor, the first of four floors to have automatic fire sprinklers. Ten sprinkler heads extinguished the fire, bringing the fire under control. It was 3:01 p.m. on Sunday.
One Meridian Plaza fire facts:
Firefighter LODD: 3 – Captain David P. Holcomb, 52; Firefighter Phyllis McAllister, 43; Firefighter James A. Chappell, 29
Duration: 19 hours
Floors destroyed: 8
Firefighters injured: 24
Alarms struck: 12
Engine companies: 51
Ladder companies: 15
Special units: 11
Total firefighters: +300
Number of sprinkler heads activated to extinguish the fire: 10
Direct property loss: approximately $100 million
Number of days post-fire for the city to enact a retrofit automatic fire sprinkler law: 24
On Dec. 18, 1991, the city enacted a law requiring a fire sprinkler retrofit for every nonresidential building 75 feet or taller by 1997.
Lessons learned from the One Meridian Plaza fire
The One Meridian Plaza fire highlights the demand placed on fire service resources and logistics when confronted by a high-rise building fire. Even more precisely, the fire proves the value of automatic fire sprinklers.
The International Association of Fire Chiefs (IAFC) released a position statement on that identifies the challenges of high-rise firefighting in buildings that lack automatic fire sprinkler systems.
The IAFC bases their position on the following:
High-rise structure fires require significantly more resources, such as personnel and equipment, to extinguish than do fires in other types of occupancies. This strains the responding fire department and firefighters.
Due to their height, smoke movement in high-rise structures is very different from that of other structures. Temperature gradients result in varying pressures throughout the structure, which can allow for the rapid, uncontrolled movement of smoke and flame (known as the

"

stack effect").
By design, exits from high-rise structures are limited. In an emergency, the movement of people out of a building is particularly difficult.
The HVAC and other utilities in some high-rises service multiple levels and can facilitate the spread of smoke and flame through a building.
Due to the height of the building, response times for the fire department to reach the actual fire itself are extended, contributing to larger fire growth thereby attributing to extensive smoke spread throughout the building.
The One Meridian Plaza fire served as a catalyst for changes to local and national building and fire codes, and continues to provide vital lessons in high-rise fire operations for the fire service.
References
Highrise Office Building Fire One Meridian Plaza, FEMA, USFA TR-049 (February 1991)
One Meridian Plaza, NFPA Fire Investigations Alert Bulletin No. 91-3 (May 1991)
IAFC Position: Fire Sprinkler Retrofit of Existing High-Rise Buildings
Fire Service Features of Building Fire Protection Systems, OSHA 3256-09R 2015