Pa. hose company restores hand-drawn ladder wagon
The full restoration of the 1899 wagon built by the American LaFrance Fire Engine Co. is part of Mifflinburg Fire Co.'s 125th anniversary celebration
---
By Eric Scicchitano
The Daily Item
Sunbury, Pa. — Mifflinburg Hose Company turns 125 years old in 2022 and when it celebrates that milestone, a piece of its past will proudly be displayed.
The volunteer fire company commissioned a full restoration of an 1899 hand-drawn ladder wagon built by the American LaFrance Fire Engine Co. in Elmira, N.Y.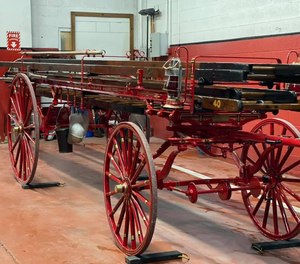 The results are stunning. Isaac Reiff and sons from Vicksburg Buggy Shop carefully photographed the 16-foot steel-frame wagon before beginning their work. It looked rough to fire company members, Mifflinburg Hose President Chuck Klose said, but Reiff said it was in pretty good condition.
"We did retighten the wheels. Otherwise, it did not take any repairs. It was just cleaning, removing all the paint and with these good pictures we were able to get it (to its original look) as close as I could," Reiff said Friday inside the station where the wagon sat at rest next to a modern fire engine.
The wagon was sanded down, much of it by hand, and sprayed with a candy apple red paint. Reiff replicated by hand the detailed striping and lettering in metallic gold, straw gold and black. That took the most time. All told, the restoration of the wagon and its three original ladders took more than six months of work.
Klose and Loren Martin, assistant fire chief, said little is known about the wagon's history. Klose said it was commissioned for the Mifflinburg fire company in its nascent years. It had been on display at the Mifflinburg Buggy Museum before being kept in storage.
It wasn't faring well in storage and company members didn't want to see it fall into disrepair. So, they reached out to Reiff.
"We just felt obligated to have it restored," Klose said.
The wagon has an extended arm at its front with two sets of handles — two firefighters on each side. There's two spools at its front end where ropes could be unwound, allowing another 10 firefighters to aid in moving it about.
There are hooks to carry about 20 leather water buckets. There are also spaces for helmets, axes, a hook, lanterns and a tool box. A cog on the rear wheel rotates to trigger a fire bell as the wagon was put in motion.
"It's basically prehistoric," Klose said when asked to compare it to modern equipment.
A lifetime member and retired deputy fire chief, William Yohn, who died in 2006, left behind money in his will for the company to build a display case for the wagon, Klose said. Company members will take on the project this winter. Plans are to build it in a space above the engine room.
See more images on the Mifflinburg Hose Company Facebook page.
___
(c)2021 The Daily Item (Sunbury, Pa.)
McClatchy-Tribune News Service