Scene safety: The bystander factor
An unsecure scene presents the potential for violence, and a risk to firefighter safety
---
The fireground is a dynamic place during any structure fire and to the outsider, it looks like a chaotic scene. In the beginning minutes of arrival at any structure fire, there is a frenzy of activity taking place that we need to be involved with – this includes the various tasks that must be accomplished based upon standard practice or by incident command assignment.
Whenever we are completing our assigned tasks, we are paying attention to the structure, the conditions, the radio reports from IC and to IC, our fellow crew members etc., we are not really paying attention to the bystanders around us.
The bystander factor sometimes comes into play on the fireground by them trying to help or inject themselves into the situation in some way – even to the point where they are trying to run back into a burning building! Why is this a problem?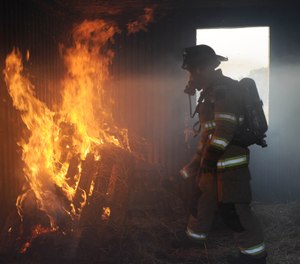 One of the primary priorities of the fireground is life safety. We do our very best to ensure that a building that is on fire is void of any human occupancy, and if there is someone inside, we get them out. Having a person trying to go back inside only adds to the difficult task of getting everybody out. The firefighters that are inside doing their job of searching and fire suppression, now must turn their attention to the individual who is trying to get back inside.
Potential for violence against firefighters
If the citizen is an arsonist or wanting the building to burn, they may even try to interfere with the firefighting operations; to the point where physical harm may be inflicted upon the firefighters. It is not strange news to hear about firefighters getting shot at or being shot by the occupant of the house.
Another fireground priority is incident stabilization – this would include securing the scene and keeping out all non-essential personnel. The police can play an important role here for us – they can help secure the scene. They have the legal ability to shut down roads, set up barricades, prevent people from entering into their residence and even detain them if need be.
The fire department is too busy dealing with all the other aspects of putting out a fire and trying to rescue people – we don't need the added task of securing the scenes ourselves. Our manpower levels will not allow for this to happen.
If the police are hesitant in securing the scene, then it will be up the IC to request formally through proper channels and through radio dispatch to assign police this task.