Chief to chief: Understanding the FirstNet impact
As more agencies and public safety professionals join the network, the interoperability potential grows
---
This article is part of our new Fire Chief Digital Edition, "Fire Service Connectivity in Action," highlighting the impact on this nationwide public safety broadband network. Read all the articles in the Digital Edition here.
Chief Richard Carrizzo, fire chief for the Southern Platte Fire Protection District in Missouri, has been engaged with the First Responder Network Authority (FirstNet) Board since day one. He joined the Advocacy Committee to help get the word out about the FirstNet Authority and FirstNet, and what it means to not only firefighters but all first responders and emergency management personnel.
"This is the network for the public safety," he said. "Even as a fire service representative, I really look at myself as the public safety person, and it's our job to make sure that this network continues to be built and built out for public safety. What's really important is that we listen to their voice and what they're saying, their needs, what they're not getting, what they're looking for into the future with the network, then help drive that through strategies and sitting on the FirstNet Authority Board to move it that way. I'll always preach that this is their network – it was built by first responders."
Carrizzo serves as the 1st vice president and is on the Board of Directors for the International Association of Fire Chiefs (IAFC). He also serves on the Mid-America Regional Council's Public Safety Communications Board as one of two metro fire chief representatives coordinating and setting policy for the entire 911 system in Kansas City, and as a representative on the Regional Homeland Security Coordinating Committee and Executive Policy Committee. He is past-president of the Heart of America Metro Fire Chief's Council.
Fire Chief spoke with Chief Carizzo about what fire chiefs need to know about adopting FirstNet.
Fire Chief: How is FirstNet being adopted in public safety and the fire service?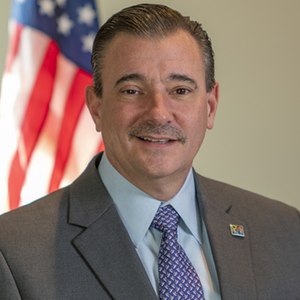 Chief Richard Carrizzo: It's not even quite two years that it's been built, and we are still in its infancy stage, even though we have more than 50,000 square miles covered and there's over 7,250 public safety agencies on the network. That seems like a lot to some, but this is just the start. Just watching the growth pattern and what agencies are doing to improve their operations, to watch technology grow and enable them with access to full data that they've never had before, whether it's fire, police or EMS, it's amazing.
It's just an educational process from day one up to two years out. We have three more years before it's completely built out.
Those who are not on FirstNet might not understand what it does. It is up to agencies when it's the appropriate time for them to get on. That has to be done internally, with their own agencies, to determine their exact needs today versus their needs in the future, and at what point it is built out enough for them to get on. More of the populous areas may have coverage today, but FirstNet is currently working to expand into additional areas, including new rural coverage.
How will agencies know when it's time for them to join FirstNet?
That's part of the FirstNet Authority's job – to help educate agencies and help them so that they are able to make decisions. Whether through the FirstNet Authority's Public Safety Advocacy team, the Board or the Public Safety Advisory Committee (PSAC), they're educating constantly. FirstNet has a representative who is running the advocacy in each state, so they're helping educate departments.
I'll get calls from agencies or a police chief or fire chief who will say, "Help explain this to me." Either I can help explain it to them or I lead them into the right direction. Part of our goal is to make sure we continue to educate communities about when is the right time to get on.
What are the budgeting implications for FirstNet adoption?
When you really look at the system, the budgeting is not going to change dramatically. If you are already providing some type of cell service to your agency, computers and apparatus, there's not much change. It would be a natural growth process, unless you are an agency that wanted to wave a magic wand over everything and replace everything at once. There aren't many agencies that normally do that. To just change over to FirstNet, you're not looking at significant dollar increases.
We were meeting with a group of the metro fire chiefs on this topic recently, and one of the chiefs in that group who represents a metropolitan area said that he had budgeted $2 million for a complete overhaul, and it wasn't with FirstNet. He was looking at the complete overhaul of radios and cell phones. He said that after he looked more into FirstNet and realized this was the right place to go with his agency, his cost came in at about one-fourth of what he had actually budgeted. We're hearing more success stories with that, but the budgeting process really isn't affecting fire chiefs as some thought it would.
It's just a natural progression, no different than individuals – when you think it's time to upgrade your phone, you upgrade your phone. You determine first whether you can afford to upgrade or not to upgrade. This is the same thing. Some agencies will keep their phones longer and may not jump onto FirstNet because of that. Other agencies may be able to change out their phones a lot quicker than the norm.
And it goes further than cell phones. My agency, which has been on not quite a year, is today changing out all the fire apparatus and putting FirstNet modems on the apparatus from the old modems. That was a natural progression for us – we didn't wave a wand and say everything was going to FirstNet right away. We're going to take steps with our normal change-out of equipment, and when that change-out happens is when we'll upgrade that piece to FirstNet.
How does training come in with the switch to FirstNet?
I would label this as two phases: the equipment phase and the training needed for the equipment. As far as anyone can see, there is no additional training needed for the equipment because you, as the individual user, probably don't know what service you are on, unless somebody says that you are on FirstNet. All the equipment operates identically as it does for a commercial user.
The training piece comes with people understanding exactly what FirstNet can provide to them as an end-user. When you have police officers, paramedics and firefighters on the street, all they know is that they want to pick up the device and they want it to work. They do need the training of, "Make sure you pick up this device – don't keep using your own personal cell phone that doesn't have FirstNet."
That is a challenge all over the U.S. – the end-user not understanding the capabilities of FirstNet. At some of my stations, you'll see the FirstNet phone still sitting on the counter because the captain didn't grab it. When you ask him why, he'd say that he had his personal cell phone. They're missing that connection. It's that education as to what FirstNet really does for them that's needed.
If the system gets tied up and congested on the commercial side (which is why FirstNet was developed), those cell phones will not work. When that captain is carrying his personal cell phone, that's not going to work. The FirstNet phone will work. When he needs to get data, make calls, send data, he possibly may not be able to do that. Again, that's the real reason why we have the FirstNet Authority and why Congress pushed this.
How will FirstNet adoption impact mutual-aid response?
Today, this whole thing revolves around interoperability and having prioritized, dedicated access to a network. You may be on a mutual-aid call, whether it's a big shooting or big bank robbery, and there are mutual-aid companies with the police, or a big fire and there's a mutual-aid company coming in.
What's going to happen if an agency is coming into this mutual-aid call and they're not on FirstNet and everybody else is on the network and that agency's personnel is not able to send data, receive data or calls because of congestion? We can use the wildland fire, where all the carriers on the commercial side got very bogged down, as an example. When that happens, agencies are going to have to work closer together and either provide FirstNet devices to those companies or provide them a crewmember who has that FirstNet-enabled device, so they can get priority access for their communications. Without it, they may not get important information for the incident at hand. That's the worst thing that can happen.
What does the future look like for FirstNet adoption across public safety?
As we move forward, "How do we continue to educate?" is the question. At first, it was about the education before the network was up, about what this was, why we're here.
Now, as we move forward – we have over 600,000 connections on FirstNet now – how does that continue to grow? It's the continued education through all of FirstNet, continuing to explain what it is.
One question I always pose to agencies about whether they should get on is, "Why aren't you on?" If they say, "I don't know," my response is that I don't want to be the fire chief who my city administrator asks whether I knew about FirstNet, that it cost us less to get on FirstNet with the coverage we need, and why we're not on FirstNet. I don't want to be that guy – that's how I explain it to them.
Again, we are still in the early stages of network deployment, and agencies are doing their research to figure out if FirstNet meets their needs now. Will it be? The ultimate goal is for it to be available to every first responder and agency out there.
Public safety is very cautious with new technology. We also know that with all three disciplines – EMS, police and fire – the last thing you want to do is hand somebody something and have it not work. What happens when it doesn't work is they're not willing to try it again. In the end-user's mind, "If it doesn't work, it's never going to work." It's the responsibility of agency leaders to ensure the complete and proper education of the end-users in order for FirstNet to be used successfully.