Mayday called when flashover sends flames over firefighters
Three firefighters were transported to the hospital for burns, according to officials
---
By Rosemary Regina Sobol and Nereida Moreno
Chicago Tribune
CHICAGO — A "flash over" sent flames over firefighters at a home on the West Side Monday, prompting an emergency mayday call to make sure everyone was accounted for, officials said.
One firefighter was missing for several minutes but finally walked out of the home in the 4800 block Van Buren Street and went to his truck, according to Chicago Fire Department spokesman Larry Merritt at the scene in Austin.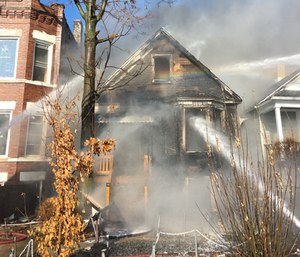 He and two other firefighters were taken to hospitals, one for burns, officials said. A person rescued from the basement was taken to Loretto Hospital, officials said.
The fire broke out shortly before noon and was quickly raised to a 2-11 alarm, sending extra equipment and crews. It took more than 100 firefighters an hour and a half to bring the blaze under control.
Fire Commissioner Jose A. Santiago the first crews at the scene brought the man from the basement. A second company arrived to search the first floor and attic when there was a "flash over" and "fire comes over the top of you," he said.
"Everybody is stable and good," Santiago said. "There was a mayday because we want to make sure everyone is accounted for."
Neighbors identified the man who was rescued as "Mr. Johnson." They said he's lived in the neighborhood his whole life and call him "Mr. Johnson" out of respect "because he's old school."
Gregory Hughes, 59, said he grew up next door and that they were good friends. Hughes said his parent's home sustained major damage. "I feel really bad but everything is replaceable," he said. "As long as everybody got out, that's all that counts."