Q&A: Fire Chief of the Year discusses leadership challenges, organizational building
Dan Eggleston, the IAFC Fire Chief of the Year, proves that clear direction and mentorship can build a strong combination department
---
Dan Eggleston, a 37-year fire service veteran, has served as fire chief for the last 13 years with the County of Albemarle (Va.) Fire and Rescue.
Eggleston currently manages 14 fire rescue stations and 750 career and volunteer personnel who serve about 100,000 residents. He's also been a board member of the International Association of Fire Chiefs Volunteer and Combination Officers Section (VCOS) since 2007. He facilitated the Firefighter Cancer Support Network Summit that resulted in the 2013 publication of "Taking Action Against Cancer in the Fire Service."
I sat down with Eggleston to ask what made him join the fire service and what it means to be recognized as the International Association of Fire Chiefs' Fire Chief of the Year.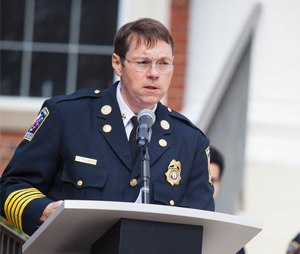 Why did you become a firefighter?
My father was a big influence in my life. He was a member of the local fire department. He helped build the station and later became the volunteer chief.
In 1978, when I was 16, I had the opportunity to work alongside my dad. I went to recruit school and then was a full member. It was the start of something great. They had great training and I was eager to learn.
Why did you decide to become a fire chief?
You have those moments in your day, where firefighters sit around the kitchen table and talk about how they would change the organization if they were chief. At the end of the day, rank does matter. My goal was to be the chief of a combination department.
I wanted the ability to influence and bring about change, while also helping people in the organization reach their full potential.
What were some of the challenges you faced in your career?
A combination department is an interesting dynamic with a mixture of career and volunteer, because different groups bring different desires and needs to the table.
There are competing interests and a diverse list of needs. It is a perfect recipe for conflict. You have to accept different point of views, reach a common ground and also find talented people who have a desire to make a difference and put the work needed into a project.
I've been able to start at the ground level and build a team among these challenges. I am honored to be part of such a great high-performing group of people.
What does leadership mean?
It is about influencing others. I think leadership in a lot of cases is taking some risks and putting yourself out there to push for something you feel passionate about.
Leadership isn't about establishing dominance and just giving direction. It is about helping people develop so they can participate to build the organization. It is also about simplifying complex issues. The fire service is becoming complex and fast-paced. We need to help people to understand where we are going, the challenges we face and the opportunities before them to help solve those challenges.
Why is mentoring firefighters to become chiefs important?
I believe that many chiefs are here today because other chiefs helped them along the way. I certainly have a long list of people who have helped me with my career.
Mentoring can be rewarding and pays dividends as you are developing people who can leave a mark on the fire service. Never forget to provide future leaders with the opportunity to get involved, or even help them put together a plan to reach their career goals.
Also, warn them. Getting the fifth bugle means a tough job ahead but it is rewarding.
For more information on the Fire Chief of the Year Award, visit the IAFC.