Q&A: Volunteer Fire Chief of the Year reflects on service, career
Dr. Charles Addington II, the IAFC Volunteer Chief of the Year, discusses the importance of making decisions and setting a vision for others
---
Dr. Charles Addington II life of community service began with joining the Wolfforth (Texas) Fire and EMS department when he was a medical resident. In 1996, Addington was fighting fires while he studied and worked long residency hours to become a doctor.
Five years later, Addington was promoted to fire chief — a role he now has held for 15 years. He works as a physician, medical director, town mayor, teacher and a businessman. He's also the chief of the Wolfforth Fire Academy, which trains 60 or more students each year using the Texas Commission on Fire Protection curriculum.
He serves on several boards, including the Fire Marshals' Association–EMS Advisory Board, and completed the four-year National Fire Academy Executive Fire Officer Program in less than three years. He has also completed the Texas A&M Fire Service Chief Executive Officer course.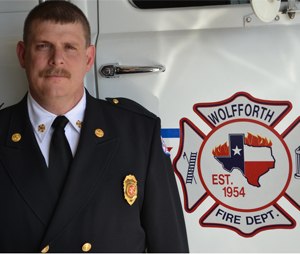 I sat down with Chief Addington to ask what made him join the fire service and what it means to be recognized as the International Association of Fire Chiefs' Volunteer Fire Chief of the Year.
Why did you become a firefighter?
I had just started a residency for family practice at Texas Tech University. My brother was already a member of the volunteer fire department at that time.
Everyone who volunteers say they want to fill a need and actually be of service. And for me, that was the honest truth. They needed people to come in and help. And I had limited time at best, but I still joined.
I thought it was an opportunity to give back to my community. I was born and raised here (in Wolfforth). So I returned after medical school to give back.
Why did you decide to become a volunteer fire chief?
We needed someone during my time as a volunteer firefighter who could stand up and make quick decisions. As a medical professional, I have to make decisions decisively and quickly for the best outcome.
I started to get more training to be able to answer more questions about operations at the fire station and at incidents. I try to make the most educated decision, and then I seek out other opinions to help me make those decisions. But it was my ability to make decisions in a timely fashion that led to me becoming fire chief.
What were some of the challenges you faced in your career?
One challenge was the fear of the unknown. I was making decisions and trying to help people, but I was new at it. So I always questioned whether I was going to mess up or make a bad decision.
As I got more training and experience, those feeling went away.
I also had a tendency when I started to micromanage that I needed to be at every incident to help. I think the number one thing I've learned over the years is the ability to delegate.
What does leadership mean?
It means having a vision and being able to give back to other people, so everyone achieves a higher level of success.
The big difference between leadership and management is that most people think leadership is where you just tell people what to do.
That's not what I think. I think leadership is establishing a direction, a vision where you want to be in the future, and instilling that vision in other people while helping them achieve their goals in life. I am lucky to say I am surrounded by quality people who do a great job.
Why is mentoring firefighters to become chiefs important?
I think as a chief and a firefighter, it is important to share my 20 years of experience. That includes the good, the bad, the do's and the don'ts. You can give young firefighters and chief officers the gift of your experiences, including the pitfalls and successes that lie ahead.
Also make sure that your officers and firefighters are creating a vision for their own career, including reaching the rank of chief.
For more information on the Volunteer Fire Chief of the Year award, visit the IAFC.