NY town officials: Use extra tax revenue to save 12 firefighters
Newburgh City Manager Michael Ciaravino said he would ask the City Council to consider using more than $500,000 to temporarily save the jobs of 12 firefighters
---
By Leonard Sparks
The Times Herald-Record
NEWBURGH, N.Y. —  Newburgh City Manager Michael Ciaravino said he would ask the City Council to consider using more than $500,000 in extra sales tax revenue to temporarily save the jobs of 12 firefighters after federal funding for their positions runs out at the end of July.
Ciaravino's remarks came during a press conference Orange County Executive Steve Neuhaus held Tuesday to call on the city to use additional revenue of $536,635 to keep the firefighters employed through the end of the year while a longer-term funding solution is sought.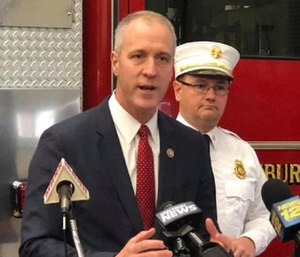 Twelve days ago, U.S. Rep. Sean Patrick Maloney appeared at Newburgh's main firehouse to call on the city and the county to find money to prevent the layoffs, which fire officials say will reverse safety gains made since the city first won a grant to bolster the department in 2013.
If the layoffs happen, Newburgh's fire personnel will drop to 56 from 68.
"This is something that I would like to present to our Council," Ciaravino said. "We need to get their blessing on it. But long-term, we've got to do something. ... Something new has to happen."
Maloney's staff and local officials have sought to prevent the layoffs of firefighters funded through the Federal Emergency Management Agency's Staffing for Adequate Fire and Emergency Response program, which has twice given Newburgh two-year grants.
Fire officials say the extra manpower improved both public and firefighter safety by adding one more firefighter to each truck and allowing for quicker deployment of hoses and ladders at fire scenes. Firefighters have also bolstered Newburgh's code enforcement efforts.
When the city's ability to take over the costs of the extra firefighters did not materialize as the first grant expired, Maloney and other elected officials successfully lobbied FEMA for a second grant worth $2 million in July 2016 to prevent mass layoffs. A third grant is unlikely.
Newburgh's projected share of county sales tax revenue was just under $2.3 million. But the county generated $3.7 million more than expected, increasing Newburgh's share.
"The City of Newburgh could utilize that money that they've gotten in the sales tax revenue to keep those firefighters rather than lay them off," said Neuhaus, who was accompanied by legislators as he also announced new county positions to help municipalities increase economic development and tourism.
Ciaravino has suggested that the county's other municipalities help fund Newburgh's fire department, which had eight members injured in the second of two explosions at the Verla International cosmetics factory in New Windsor on Nov. 20.
While most municipalities rely on volunteer companies, Newburgh's is a municipal fire department.
"In so many ways, the Newburgh Fire Department, we believe, is subsidizing the region," Ciaravino said. "What we're asking for is the region to recognize the value of our fire department and help us pay for it."
Copyright 2018 The Times Herald-Record