Conn. FF injured battling garage blaze
The Stamford Fire Department reported that a three-bay garage fire was well-involved and venting through the roof of the building when firefighters arrived on scene
---
By Rachel Engel
STAMFORD, Conn. — A Stamford Fire Department firefighter was injured while battling a large garage fire on Sunday. 
According to SFD, a three-bay garage fire was well-involved and venting through the roof of the building when members arrived on scene.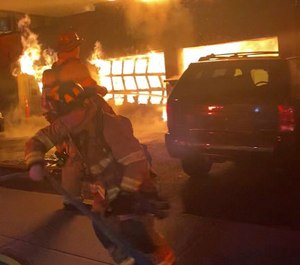 Occupants of the building were evacuated as fire crews controlled the blaze. One firefighter was injured during operations. 
The fire is being investigated by the Stamford Fire Marshall's Office.