Angry residents demand answers after Mass. gas explosions
Anger reverberated through the communities of Lawrence, Andover and North Andover, as the reality of the disaster began to sink in
---
By Kiera Blessing
The Eagle-Tribune
LAWRENCE, Mass. — By Monday morning, Luz Diaz was fed up.
Over the last 90 hours, she had been forced from her home with three terrified children, spent $1,000 on food, clothes and other necessities for her family of five, spent hours in the blistering sun waiting for help from her gas provider, and was told she could expect to be without gas for weeks to come. But the final straw was when she finally spoke to an adjuster with Columbia Gas at the old Lawrence High School, and was given just $200 in Visa gift cards for her trouble.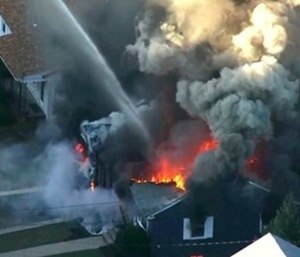 "I'm furious because of this. ... I have to be angry," Diaz said. "If they would've done their job the right way, none of this would have happened."
Diaz was not alone. Anger reverberated through the communities of Lawrence, Andover and North Andover Monday, as the reality of the disaster began to sink in and the inconveniences mounted to become heavy burdens.
Many, like Diaz, were angry, but they were also concerned. With no clear timeline as to when residents can expect to see gas service returned to their homes, many wondered how long they'd have to live without stoves or hot water, and how they would stay warm with autumn -- and plummeting temperatures -- fast approaching.
"I'm very concerned, because that's my heat," said Priscilla Noble, a North Andover resident. Her furnace burst into flame in her basement Thursday afternoon, but she and her husband were able to douse it with their fire extinguisher. There were so many emergency calls Thursday, she said, that firefighters never made it to her home -- but a police officer with his own fire extinguisher did.
Noble also questioned how long it would be until she could secure appointments with all the necessary tradesmen she would need, given the high demand anticipated across the Merrimack Valley. She said she'd been told to buy herself a new furnace as soon as possible, before local supply runs out.
Though the pandemonium of Thursday night had largely abated by Monday, chaos still reigned at the various help centers across the city. At the Columbia Gas Claims Center on Lawrence Street, four state troopers and four Lawrence officers were stationed to maintain order.
"If we didn't, we probably would have had a full scale riot," said Lawrence police Chief Roy Vasque.
Vasque said Columbia had no plan in place to control the crowds that descended on the claims center, and that police and the company worked together to come up with a ticketing system. Residents with blue tickets were guaranteed to speak to an adjuster Monday; those with red tickets would see someone Tuesday, and those with purple tickets had secured a space on Wednesday.
Daniel Ball, a spokesman for Columbia Gas who was flown in on Saturday from Ohio, said the company had 750 tickets of each color. By 1:30 p.m. Monday, they had already run out of the red tickets for Tuesday time slots. He expected to stay in the area until Thursday.
Ball explained that the adjusters were only starting claims in Lawrence, and that full reimbursement would take time. The gift cards were a "little something" from Columbia Gas to "get them started" while they waited for their claims to be processed, Ball said. Single people were getting $100, while families of four or fewer got $200 and families of five or more could expect $300.
As for when residents could expect to see their reimbursements, or what form they would come in, Ball had no answers.
Even after being allowed home, communities impacted by the crisis were unnerved. A handful of firefighters left 235 Salem St. Monday afternoon after responding to a reported gas leak that turned out to be a false alarm. According to Deputy Fire Chief Jack Meaney, the residents likely smelled the gas from Crosby Street, where crews were purging the pipelines. He said the department had responded to "hundreds" of false alarm calls over the last few days but shrugged it off. Thursday was "traumatic," he said.
That trauma was still fresh on the mind of Dora Torres Monday afternoon. She'd spent the last few nights in a hotel, but had returned home on Sunday.
"My biggest concern is when all the gas comes back on," she said, worried it could spark more explosions or fires. "I think that's everyone's fear."
Jennifer Singarella, a mom of two, waited in a long line in the sweltering heat of the gymnasium at the old high school Monday with her toddler daughter. She was in good spirits, and explained that she didn't want her children to see her scared, though she said her "heart was racing" on Thursday night.
"I had just gone food shopping and paid rent," she said. "It's like you're tapped out now, what are you supposed to do for the rest of the month?"
A short distance away, hundreds more people packed the Arlington School, which has been operating as a shelter and a Resource Center for victims of the evacuation. Long cafeteria tables lined the front hallway, piled high with donated clothes. Volunteers handed bottled water and snacks left and right.
Jeff Hall, a spokesman for the American Red Cross, said the shelters across the three cities averaged about 400 people per night while the evacuation order was in place. Even by mid-afternoon Monday, Hall said it was unclear how many people were still permanently displaced, having lost everything to flames.
We're starting to do disaster case work right now," he said, noting that 150 cases had already been opened, though not all of those cases represented victims of fires. He anticipated at least 80 more cases to be made.
"I don't think we even have a good grasp on how many people were affected by these fires," Hall said. "The scale is just unimaginable."
Outside the Resource Center, Julissa Jerez held a gallon-sized plastic bag with baby wipes and granola bars. She said she'd left without anything else because the lines were too long.
"We're living off our (credit) cards for the most part," she said. "I'm kind of afraid of how long we're going to have to do that."
Copyright 2018 The Eagle-Tribune