Judge says Oakland can be sued for Ghost Ship fire
The order means Oakland can be held liable for its actions and inaction leading up to the fire that killed 36 people
---
By Kimberly Veklerov
San Francisco Chronicle
OAKLAND, Calif. — An Alameda County Superior Court judge has ruled that Oakland officials have a duty to act when they come across unsafe conditions in buildings such as the Ghost Ship warehouse, which burned a year ago, allowing a lawsuit against the city stemming from the fire to proceed.
In his ruling, Judge Brad Seligman permitted some allegations -- such as the mandatory duty claims -- to stand, while tossing others. The order means Oakland can be held liable for its actions and inaction leading up to the fire that killed 36 people. The city may appeal the decision.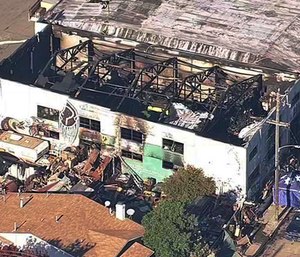 Oakland had a "mandatory duty," Seligman wrote last week, to fix the poor conditions of a building like the Fruitvale warehouse, which had been converted into a residential and performance space without city permission. By its own ordinances, the city was required to repair, rehabilitate or demolish structures deemed a public nuisance or danger to health and safety, Seligman said.
"There is no question of the authority and obligation of the city to act when faced with an unsafe and substandard building," he said in the decision.
The fire broke out during an electronic music party Dec. 2, tearing through the two-story building packed with wooden sculptures, rugs, pallets and other flammable materials.
Records showed that Oakland police officers and firefighters, as well as county social workers, had been on the premises in the weeks and years before the inferno. And yet the city had never formally inspected the warehouse or ordered any hazards to be abated.
The wrongful-death and injury suits filed by survivors and victims' relatives named property owner Chor Ng, primary tenant Derick Almena and more than two dozen others as defendants. Seligman in September allowed proceedings to go forth against Pacific Gas and Electric Co. for allegedly failing to monitor or shut down the jury-rigged electricity that fed into the warehouse.
Britt and Amanda Brown and their Los Angeles electronic music label 100% Silk, however, were dismissed as defendants from the suit last week.
Seligman has yet to make a final decision on whether Alameda County can be held responsible.
California law broadly shields cities from liability claims stemming from failure to inspect a building, or negligence resulting from an inspection. To circumvent the immunity, lawyers for the victims and families argued that Oakland had knowledge of the property's dangerous conditions independent of any inspection.
The city, in turn, said that theory could create a dangerous precedent that discourages city staff from even visiting a property, worried that they might be exposing themselves to liability.
Seligman sharply disagreed.
"On the contrary, confining the inspection immunity to its proper ambit encourages a public entity to perform its statutory duty to inspect without fear of liability," he wrote. "Expanding the immunity beyond inspections would permit a public entity to disregard what it inadvertently learns or observes, thus creating a disincentive to act or report, despite mandatory duties to do so."
Ultimately, he said, the city's policy argument is a matter best left to the state Legislature. In the meantime, Oakland is still on the hook for some allegations in the Ghost Ship lawsuit.
The city attorney's office did not respond to a request for comment.
Copyright 2017 San Francisco Chronicle