Pa. firefighters shot at by homeowner while leaving call
At least two gunshots were fired at firefighters as they were leaving a residence on a private road where they encountered an armed homeowner
---
By Ed Lewis 
The Times Leader
BEAR CREEK TWP., Pa. — At least two gunshots were fired at township firefighters as they were leaving a residence on a private road where they encountered an armed homeowner early Wednesday morning, Fire Chief John Krumsky said.
Krumsky said firefighters responded to a residence on Trailwood Lake Road at about 1 a.m. for what was initially an auto-alarm. As firefighters arrived, the call changed to a structural fire alarm, Krumsky said.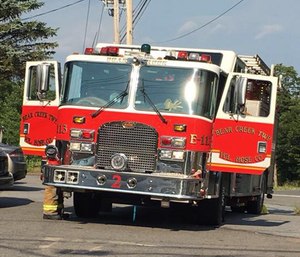 Krumsky said a house alarm was activated and the front door was unlocked with interior lights turned on. Firefighters repeatedly announced themselves, Krumsky said, and decided to enter the house believing there was some type of an emergency.
"We assumed something was wrong, we announced ourselves several times, 'Bear Creek firefighters,'" Krumsky said. "The door was opened, we entered, turned a corner in the house and the homeowner was on top of the stairs with a gun pointed at us."
Krumsky said the homeowner yelled at firefighters to leave. As firefighters were walking away from the house, Krumsky said two shots were fired from a window.
"We left and were walking out the driveway and we heard shots – two, coming out a window," Krumsky said.
Krumsky said state police along with police in Wilkes-Barre, Wilkes-Barre Township, Plains and Hanover responded to the scene. He said the homeowner surrendered without incident.
"Never in my 47 years did this ever happen to us," Krumsky said.
As of Thursday, no charges have been filed against the homeowner.
Trooper Deanna Piekanski said the incident remains under investigation.
McClatchy-Tribune News Service