Firefighter who lost arm in crash comes home
Lt. Ryan Emmons lost his arm when a tractor-trailer collided with his fire truck
---
LANHAM, Md. — The firefighter whose arm was severed when a tractor-trailer collided with his fire engine on the Capital Beltway in late January is at home recovering after an extended medical stay that included a surgery to reattach his arm.
Lt. Ryan Emmons of the West Lanham Hills Volunteer Fire Department was in critical condition in a Baltimore hospital immediately following the accident but was able to return home Monday, according to the department's Facebook page.
The department has set up a contribution account for the lieutenant. Anyone interested in donating should make checks payable to WLHVFD c/o Ryan Emmons. Contributions should be mailed to WLHVFD, PO Box 1348, Lanham, Md. 20703 or made via Paypal. The surgeon who performed Emmons' surgery is the same doctor who successfully completed a double-arm transplant for a wounded soldier at Johns Hopkins Hospital in Baltimore in January, according to the department's website.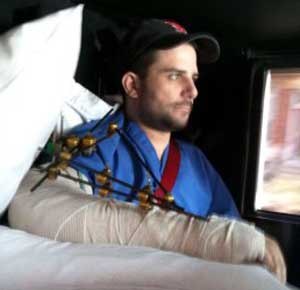 Full story: Firefighter Who Lost Arm in Beltway Crash Comes Home