Firefighters run Okla. memorial marathon in full bunker gear
The marathon remembers victims in the 1995 Oklahoma City Federal Building bombing, which killed 168 people
---
By Matthew McNabb
Oklahoma City Fire Department
OKLAHOMA CITY — Oklahoma City this year hosted the 10th annual memorial marathon.
Tragedy took place on April 19, 1995 at 9:02 a.m. A bomb was detonated in the street in front of the Alfred P. Murrah Federal Building in Oklahoma City, destroying the Federal Building and killing 168 people, including 19 children.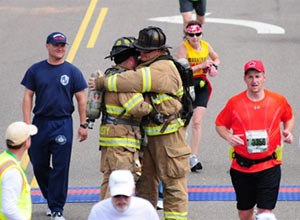 Emergency services personnel were on the scene immediately and began the rescue effort. On April 25 this year, two Oklahoma firefighters ran the Oklahoma City half marathon in full bunker gear in remembrance. These two firefighters covered 13.1 miles in over 50 lbs of gear.
Both firefighters are members of the Midwest City, Oklahoma fire department. Richard Lawrence and Brian Christy trained extensively in preparation of the event. They spent hours on treadmills in full bunker gear while on duty and additional hours each day off conducting interval workouts and preparing their bodies for an extreme physical fitness spectacle. They modified their diets to intake more protein and water, while cutting fat. But most of all they proved how important mental toughness is and motivated many of their fellow firefighters to take a more active role in their physical fitness.
They both agree that their actions speak louder than words. They wanted to prove to the families, friends, and survivors of the 1995 bombing that they are not forgotten. During the process they showed to the nation that Oklahomans and especially the Oklahoma fire service are among the best in the world.
Richard Lawrence is an Operation Enduring Freedom veteran and said: "The bombing is the reason I decided to join the fire service. I was in the eighth grade when it happened. As a 14-year-old watching TV and going downtown to see it. It really had an impact on my life." After graduation from high school he joined the U.S. Air Force as a firefighter and deployed shortly after Sept. 11, 2001. Brian Christy and Richard Lawrence both work as Fire Instructors at Eastern Oklahoma County Vo-Tech in addition to being active firefighters at Midwest City.
Both Lawrence and Christy said they have plans to take part in next year's Oklahoma City Memorial Marathon.