NM governor signs PTSD measure for firefighters into law
The measure adds PTSD to the list of conditions presumed to have been caused by their jobs as firefighters
---
Dan McKay
Albuquerque Journal, N.M.
ALBUQUERQUE, N.M. — Gov. Michelle Lujan Grisham signed legislation Tuesday aimed at guaranteeing medical coverage for firefighters who endure post-traumatic stress disorder triggered by their work.
The measure, House Bill 324, adds PTSD to the list of conditions presumed to have been caused by their jobs as firefighters and requiring employers to provide medical treatment for it. A variety of cancers, for example, are among the conditions already covered.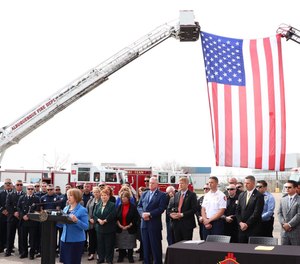 Lujan Grisham joined Albuquerque Mayor Tim Keller and other elected officials to sign the bill in front of firefighters at the city's West Side fire academy.
The governor spoke about receiving quick help decades ago — from a firefighter trained as a paramedic — when her 2-year-old daughter stopped breathing. It's one example, she said, of the kinds of life-and-death work firefighters handle every day on the job.
"These kinds of stresses are real," Lujan Grisham said.
House Bill 324 was jointly sponsored by Democratic Reps. Deborah Armstrong and Melanie Stansbury, both of Albuquerque.
Employers would still have the option of going to court if they believe they can show the firefighters' PTSD wasn't caused by their work.
The legislation passed the House 58-4 and the Senate 34-5 earlier this year. Friday is the deadline for the governor to act on bills passed in the final days of the session.
Also Tuesday, Keller thanked state officials for approving about $17 million in funding to help the city of Albuquerque upgrade its communications network for police and firefighters.
Keller said that some of the local equipment is so old that the city buys replacement parts through eBay, an online marketplace that sells used goods. The radio network also makes it difficult to communicate with other agencies, he said.
"If we can't talk to each other, we can't work together," the mayor said.
This coverage will help firefighters treat their exposure to chronic stress, lead healthier lives, and be able to keep serving their communities. I am especially grateful to @IAFFNewsDesk president Harold Schaitberger for championing this issue nationwide and joining us today. pic.twitter.com/bJVR6f4lNh

— Gov. Michelle Lujan Grisham (@GovMLG) April 2, 2019
———
©2019 the Albuquerque Journal (Albuquerque, N.M.)
McClatchy-Tribune News Service