Freedom House Ambulance Service: A story worth cementing in the textbooks
It's time to add the story of this cutting-edge program to EMS education curriculums everywhere
---
During my time as a paramedic instructor, not a single year passed where I did not have a photograph of Johnny Gage and Roy Desoto from the TV show "Emergency!" shine across the screen in the middle of a PowerPoint presentation.
For 15 minutes or so, I would explain to a room full of students, many who couldn't imagine life without internet, the significance of these two men. We'd laugh, look at a few clips on YouTube, and move on feeling a little proud of just how far our profession had come.
Why do we feel the need to pay homage to a fictional TV show? Because even though the show has been off the air for more than 40 years, it is almost impossible to measure the influence they had on our profession. They deserve it. [Read next: Why fire service TV shows matter: Reflecting diversity, authenticity and professionalism]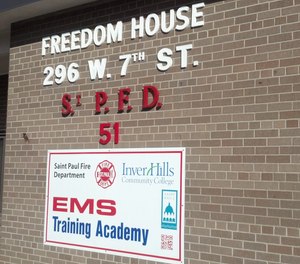 But there is another story that exists that started before Johnny and Roy. It wasn't on TV and did not involve actors. It's a true story of one of the first and most cutting-edge EMS programs in the country: Freedom House EMS in Pittsburgh, Pennsylvania, staffed mostly by black men and women from the poverty-stricken Hill District.
From unemployable to pioneers
Starting in 1967, Freedom House Ambulance Service grew out of a need to provide two things: prehospital emergency care for the poverty-stricken Hill District and jobs for Black men and women from that community, many of whom were deemed "unemployable."
While it was in service, Freedom House Ambulance Service proved to be a wild success in the face of adversity. Careers were launched and textbooks were written. But in the end, it folded, primarily due to a lack of funding from the city, which chose to fund its own citywide ambulance service, which was primarily white.
Although the story of these EMS professionals has gained some traction in the media, there are still many paramedics and EMTs who know nothing about it. And now, as the National Highway Traffic Safety Administration (NHTSA) is set to release its new educational standards, the time has come for those in EMS education to ensure that every new EMT learns the story, by adding it to their EMS Curriculum.
Adding Freedom House to the standard
For the first time since 2009, the NHTSA Office of EMS is updating the National EMS Education Standards. They are doing this to reflect the latest National EMS Scope of Practice model.
Why does this matter?
The national standard sets a guideline to ensure that all EMS students are being prepared to the same minimum level, providing the very foundation from which all EMS curriculums and textbooks are created. Program directors, instructors and textbook contributors should use this long-awaited update as an opportunity to bring the story of Freedom House to every classroom.  
Then we could all be assured that the next generation of EMS providers will know who they are and what they did for all of us. Maybe then will Freedom House Ambulance Service finally claim the spot they all deserve among the founders of our profession.
Shared responsibility
I am white and obviously cannot speak for the men and women of the Freedom House Ambulance Service or any Black EMTs and paramedics. But I do believe that we all have a shared responsibility of learning more about our history, those who were pioneers in our profession, and the hurdles faced by our predecessors – many hurdles that are not our own experience.
The first step to reaching that awareness is by taking an honest look at our history. Only then can we work toward a better future.
In my opinion, there is so much more we can learn from the success and the demise of Freedom House Ambulance Service than we could ever garner from Squad 51.
For further details about the upcoming changes, or to review the current EMS Educational Standards you can visit the NHTSA's Office of EMS website for EMS Education Standards. 
Additional information: