What's the next 'giant leap' for the fire service?
It's time to focus on standardization and integration of fire and EMS systems – future milestone advancements for the fire service
---
Landing on the moon 50 years ago, on July 20, 1969, is unarguably one of man's greatest achievements. "One small step for man, one giant leap for mankind" endures as the famous audible moment of that unprecedented achievement.
President John F. Kennedy motivated the nation in a 1961 speech where he proclaimed, "We choose to go to the moon!" Although the United States had been running a distant second to the Russian space program prior to this declaration, President Kennedy's vision was fulfilled with Apollo 11 landing on the moon eight years later. That landing was indeed a giant leap forward for all of mankind.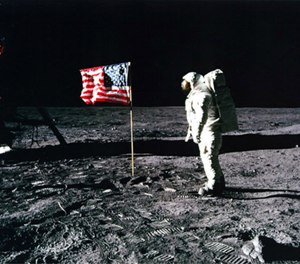 "Giant leaps": Past and present fire service advancements
Similar to the moonlanding "leap," public safety in the United States took a giant leap a year and a half earlier, on Feb. 22, 1968, when the first 911 call was completed in Haleyville, Alabama.
I believe the closest modern-day parallel to these giant leaps of decades past is the technology associated with digital devices, like smartphones. The smartphone most of us carry today has more computing capability than all of the computing systems available to NASA in 1969. You can even tell your device to dial 911.
The digital age (some would say the digital revolution) was in its infancy in 1969 and is recognized as but a glimmer of what exists today. Including the digital revolution, there have been extraordinary fire service-specific advancements in the past 50 years. From mobile data terminals (MDTs) to global position (GPS) data and radio frequency identification (RFID) tracking, our digital capacity is only dwarfed by our imagination.
With all this in mind, today I consider the question, "What's the next giant leap for the fire service?"
Fire service standardization and integration of fire and EMS
It may sound simple – and some would argue that "we already have that" – but I submit that the next giant leap for the fire service is TRUE fire service standardization and integration of fire and EMS.
Sure, we have the National Fire Protection Association (NFPA), not to mention countless other acronym-rich agencies and groups who claim to all follow the National Incident Management System (NIMS) and who say that we're all operating on the same page. But to me, a real "giant leap" would be a future federal cabinet-level fire/EMS administration that's responsible for everything the fire service and EMS industry encompasses.
With the current model of the U.S. Fire Administration buried under FEMA, which is buried under the Department of Homeland Security, and EMS buried under the Department of Transportation (and some would say the Department of Health and Human Services), our generally fractured culture will continue to divide without definitive change.
In all fairness, many locations have successfully integrated and combined fire and EMS delivery; however, those successes are usually driven by local political conditions more than service need.
As I look in my current state of Florida or my previous home states of Maryland and West Virginia, I can point to at least four 911-fire/EMS-transport service-delivery models. And they ALL believe they are doing it the best and serving their communities properly. My experience has been that we are short-changing our people and our communities by not adopting standards in general, and not using standards as, well, standards!
We dedicate far too few resources – both in people and funding – to the fire and EMS services in the United States, and to make matters worse, we can't even keep our numbers straight. According to the U.S. Bureau of Labor Statistics, there are 327,980 EMTs and paramedics (2016 statistics plus an annual 15% increase), and as of 2018, 321,240 career firefighters. And according to FEMA, there are 345,600 career and 814,850 volunteer firefighters working for 29,727 fire departments nationally, with no accurate data to say how many of each of those are cross-disciplined in fire and EMS.
Regardless of the real number, every one of these first responders responds to the same home to help Grandma Jones. As we continue to answer those single-point 911 calls today, we diverge to multiple systems of dispatch and service delivery – and the fractures continue.
When it comes to the standardization of fire service codes and standards, we use NFPA standards to reference training/staffing, apparatus and fire protection standards. While I fully recognize that not every state or location adopts NFPA codes, I can testify to the success and lifesaving affects that many NFPA codes and standards have made. While we selectively choose which standard we want to "adopt," I suspect that some reading this will one day be faced with the legal interpretations of what they "should have known" as they end their lawsuit testimony.
Whether or not your location adopts NFPA, most generally adopt NFPA 1001: Standard for Fire Fighter Professional Qualifications Firefighter 1 as the minimum standard for volunteer firefighters and Firefighter 2 for paid firefighters. Notice I said some – there are those who exceed these standards and those who scoff on the need for anything more than what "their chief" says they have to do.
Similarly, a national registry for EMTs and paramedics should provide the platform to standardize those credentials; however, many (if not all) states, municipalities and localities then require additional credentialing for the same standard.
If we don't adopt a national standard of expectations, then the division of state acceptance will continue to discourage firefighters, EMTs and paramedics nationally. A singular federal fire/EMS agency would provide at least the framework to standardize the expectations and improve service reliability across the states.
Let us "choose to go to the moon"
The next giant leap that I'm speaking of should not just be thought of as an overhead change, but a systemic integration across the board. Mission-creep in fire and EMS in undeniably strong and related. I submit to you that a federal system that recognizes our first responders as providing myriad services in one industry model, with one set of industry standards and expectations, is the next great leap for us to take.
I believe we should "choose to go to the moon" with respect to standardization within our services. Let's work with the International Association of Fire Chiefs (IAFC) and the Congressional Fire Services Institute (CFSI) to bring meaning to this notion.
Continuing to run the fire service model in Ben Franklin's admirable shadow is holding us back from moving forward. We need to rethink, reshape and take bold steps of action to avoid extinction. This isn't about volunteer or career; it's about leadership and public safety.