2 Pa. FFs hurt battling 3-alarm blaze at $6.4M home
Assistant Chief Bill Sames of the Western Salisbury Volunteer Fire Company called the fire a "logistical nightmare" due to the size of the home
---
Jennifer Sheehan
The Morning Call
SALISBURY TOWNSHIP, Pa. — A huge, castle-like Salisbury Township home that just sold for $6.4 million is burning this morning in a three-alarm blaze that left two firefighters injured.
Fire crews, dispatched at 5:57 a.m. when a caller reported flames visible from the back of the home at 3015 Barrington Lane, arrived within minutes to find the house engulfed.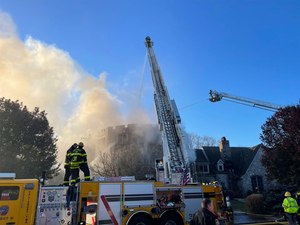 Firefighters were ordered out of the structure around 6:24 a.m. because of the extent of the fire and damage. At 7:30, with flames still showing, they set up a "collapse zone" because the roof had fallen in and the structural integrity of the house might be compromised.
Two firefighters who were among the first on the scene were taken to Lehigh Valley Hospital-Cedar Crest for treatment of "burn and trauma injuries," said Don Sabo, Salisbury Township fire marshal. He did not disclose their conditions or say what departments they belonged to.
Assistant Chief Bill Sames of the Western Salisbury Volunteer Fire Company said the fire began in a newer section of the main house and spread. No one was home when it began.
Sabo said the house is one of the largest in the township. Sames called it a "logistical nightmare."
Firefighters "arrived on scene and it was fully engulfed," Sames said. "It went quickly to a second alarm, then third."
About 60 to 70 firefighters from eight companies are battling the blaze, he said.
The house, which sold Monday, is a 36,800-square-foot French Chateau style estate with six bedrooms and 14 ½ bathrooms. It is on a cul-de-sac in a neighborhood of similar high-end homes.
Former owner William Grube said the new owners took possession Monday. He did not comment further.
Neighbor Gregg Feinberg said he saw items being unloaded from two tour-bus style vehicles Monday as the new owners began to move in.
Feinberg said the house, built in 1997, was originally about 15,000 square feet but the Grubes — who paid $2.4 million in 2004, property records show — added to it.
Neighbor Tim Spinosa, who lives across the street, said he has been in the house and the addition where the fire appears to have started includes a ballroom, game room and office. A photo gallery on a real estate website shows a bistro, wine cellar, elevator and other amenties.
Spinosa said he and his wife woke around 5:45 a.m. to the sounds of sirens and saw the flames and smoke pouring from the house.
He didn't know the names of the new owners. Like Feinberg, Spinosa saw buses at the house Monday, though he said there were no signs of a gathering of any size.
In addition to Salisbury Township, the response includes fire crews from Lower Macungie, South Whitehall, Whitehall, Cetronia, Greenawalds, Catasauqua and other departments. At least 30 fire trucks and other vehicles are at the scene.
Staff writer Molly Bilinski contributed to this report.
___
©2021 The Morning Call
McClatchy-Tribune News Service