4 N.Y. firefighters hurt in 2-alarm apartment fire
Syracuse EMS providers transported the injured crewmembers and evaluated a disoriented person
---
By Rylee Kirk
syracuse.com
SYRACUSE, N.Y. — Four firefighters were taken to hospitals when they were injured fighting a 2-alarm apartment building fire on Wednesday night, firefighters said.
At 11:33 p.m. firefighters were dispatched to the vacant apartment building at 153 Seymour Street for a fire, according to a news release from the Syracuse Fire Department Thursday morning. The building, the Peace Manor Apartments, has 40 apartments, according to property records.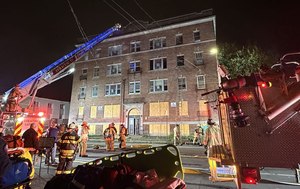 Firefighters found fire coming out of the third floor and spreading to the fourth floor.
Firefighters entered the building to search for people and found a person on the third floor, firefighters said. The person told firefighters there might be someone missing on the third floor, firefighters said. No one else was found, firefighters said.
The person found was disoriented and evaluated by medical personnel at the scene but not taken to the hospital, said Syracuse Fire Chief Michael Monds.
Water was used from the outside of the building to fight the fire.
Firefighters poured water on the blaze from outside while others climbed the stairs inside to cut off the fire from the fourth floor, firefighters said. It took 40 minutes to extinguish the fire.
A firefighter who was part of the first group to arrive sustained burns, Monds said. The firefighter was taken to a hospital and was evaluated, he said.
Firefighters remained at the building to make sure no spots of fire were left.
While ensuring the fire was completely extinguished firefighters were injured. They were taken to local hospitals for evaluations, firefighters said.
The fire was a 2-alarm fire, meaning more trucks and firefighters were called in, firefighters said. Sixty-three firefighters responded.
"It was a huge response, but it was needed," Monds said. "These firefighters had a huge task."
©2023 Advance Local Media LLC.
Visit syracuse.com.
Distributed by Tribune Content Agency, LLC.
McClatchy-Tribune News Service