9 injured in Pa. after tree falls on tent due to lightning strike
Nine people, including children, were transported to the hospital with back and head injuries, as well as cuts and bruises
---
By Ellie Silverman
The Philadelphia Inquirer
FEASTERVILLE, Pa. — Nine people, including children, were injured Sunday evening when lightning struck a tree and caused it to fall on a tent at the Dolphin Swim Club in Lower Southampton, authorities said.
Everyone pulled themselves out from under the tent before first responders arrived around 5 p.m. Sunday, Lower Southampton Emergency Management Coordinator and Fire Marshal Bill Oettinger told reporters at the scene. Victims suffered from back and head injuries, he said, as well as cuts and bruises.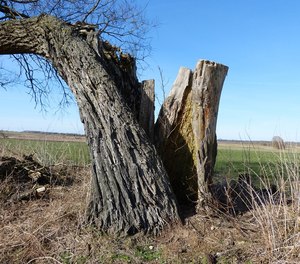 Lightning had burned a branch that snapped off the nearly 100-foot tree.
"The branch on the ground is charred black," Oettinger said. Witnesses told him they saw the lightning strike and quarter-sized hail fall in the storm.
An adult suffered the most serious injuries, Ray Weldie, chair of the Lower Southampton Board of Supervisors, said Sunday evening.
The victims were taken to St. Mary Medical Center in Langhorne, said Larry King, a spokesperson for Bucks County.
Firefighters cut away at some of the tree to check that no one was trapped, Oettinger said.
He pointed to other trees at the club as examples of the strength of a summer storm.
"There's another one over there completely uprooted," he said. "That one over there was struck by lightning."
Public works employees worked into the evening to cut more of the tree away so people could retrieve belongings they had to abandon in the rush to escape injury.
There were many signs people left in a hurry.
Plastic water bottles were abandoned on a picnic table near the entrance. Trash and a red folding chair were strewn across the grass.
Joe McIlvaine, 52, the owner of a tree and lawn-care company who lives nearby, drove by the club with his girlfriend close to 7 p.m. to see if workers needed any help. He had seen on Facebook that a "huge tree came down."
A member at the club a decade ago, he used to bring his youngest son and daughter, then 12 and 10, to swim. Once, he trimmed some trees there.
"I'd hate to see kids get hurt," he said.
———
©2019 The Philadelphia Inquirer
McClatchy-Tribune News Service