Alaska firefighter discusses overcoming ladder fall injury
"I'd say the biggest positive is that I''ve seen the worst part of my life and seeing how I can overcome that," Ben Schultz said
---
By FireRescue1 Staff
OMAHA, Neb. — A firefighter who was seriously injured after falling from a ladder during a training session reflected on his journey to overcome what he calls the worst part of his life.
KTVA reported that Anchorage firefighter Ben Schultz, who is now recovering at a rehabilitation center in Omaha, said he doesn't remember the June incident that left him in a coma.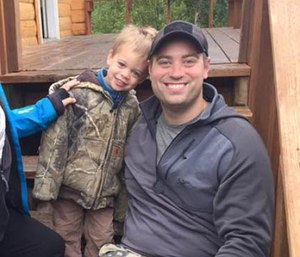 "They told me that the ladder was extended up to a hundred feet and at a 70-degree angle, and I fell straight, basically down the ladder – kind of probably tumbling and stayed between the rails," Schultz said. "My helmet was shattered. My boots stuck in the top, so that's probably how I broke my ankles. And I'm glad I was wearing my helmet."
"The crew that I was working with heard me fall, heard me kind of hit the ladder on the way down. They came out, saw me, found me unresponsive," Schultz added. "I wasn't breathing, didn't have a pulse, and so they started CPR. They put a breathing tube in me. They noticed that I had a collapsed lung. So they decompressed my chest and re-inflated that lung and transferred me to the hospital."
Schultz said that the experience has shown him how tough he really is.
"I'd say the biggest positive is that I've seen the worst part of my life and seeing how I can overcome that," he said. "With the Lord's help and family and friends and their support; and I go, OK, I can handle a lot and I'm looking forward to what the future's going to provide."
Right now, he undergoes about six to eight hours of physical therapy at the rehabilitation center, while also working on firefighting and EMS training.
Schultz said he owes his remarkable recovery to his medical team, family and friends and his faith. He is set to return to Anchorage in June, and plans to eat at his favorite pizza restaurant as soon as he arrives.
Fire Chief Olsen had the opportunity to visit with Ben Schultz this morning! Ben is an Anchorage Firefighter who survived a 100ft fall during a ladder training exercise in 2017 & is now currently undergoing rehab right here in Omaha at QLI. Read more: https://t.co/VL64QBsmdG pic.twitter.com/BBX5MmTaHr

— Omaha Fire Dept (@OmahaFireDept) April 18, 2018