Florida firefighter sustains traumatic injuries in elevator shaft fall
Miami-Dade Firefighter David Gonzalez was airlifted to a trauma center following a "long fall"
---
By FireRescue1 Staff
Updated on Jan. 15 at 4:45 p.m. EST
"Firefighter David Gonzalez is finally out of surgery. He is being cared for at the trauma facility's intensive care unit," Miami-Dade Fire Rescue Public Information Officer Ericka Benitez told CBS Miami. "We know he is in serious but stable condition, and we do know this is going to be a long road to recovery."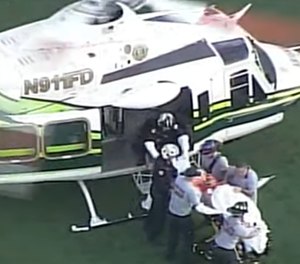 Original Story:
A Miami-Dade Fire Rescue firefighter sustained traumatic injuries during an elevator response call in Bal Harbour, Florida.
Firefighter David Gonzalez, an 18-year veteran of the department, was part of a response to a call of a person stuck in an elevator when he suffered a long fall, according to Miami-Dade Fire Rescue. Gonzales suffered traumatic injuries and was airlifted to Jackson Memorial Hospital's Ryder Trauma Center, where he underwent surgery.
According to WSVN-TV, Miami-Dade Fire Rescue Chief Alan R. Cominsky stated: "Just appears that something transpired and fell several feet in an elevator shaft. Our crews acted swiftly and obviously a very difficult situation. We transported the individual, our fellow brother."
It is not known at this time how the fall occurred.
Bal Harbour Police Chief Raleigh Flowers said there will be an investigation to determine what occurred: "It's going to be a joint effort with state agencies, with the fire department and our police department."
Miami-Dade Fire Rescue posted on its Twitter page, "We are extremely grateful for the outpouring of support from fellow firefighters, other public safety agencies and members of the community who have reached out to us."