Inmate in firefighting program escapes, still at-large
The program helps firefighters with nontechnical firefighting tasks such as clearing forests in advance of wildfires and making sure wildfires are fully extinguished
---
By Ryan Masters
The Santa Cruz Sentinel
BEN LOMOND, Calif. — A minimum-security inmate who walked away from the Ben Lomond Conservation Camp on Friday night remains on the lam despite a multi-agency search.
At 10:15 p.m., camp staff witnessed Leroy Hampton, 46, leaving the facility, located at 13575 Empire Grade, according to Jeffrey Callison of the California Department of Corrections and Rehabilitation.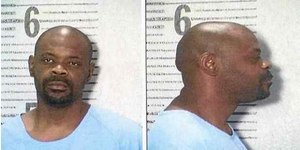 Callison said staff was unable to stop the fugitive "because he was running and did not want to be caught."
Several law enforcement agencies have been searching for Hampton throughout the Memorial Day weekend with no success.
Hampton is black, stands 5 feet, 11 inches tall and weighs 178 pounds with brown eyes and black hair. He was last seen wearing gray sweats.
Originally from Fresno County, Hampton was convicted of first-degree robbery and started serving his sentence June 7, 2001, Callison said. He was scheduled to be released April 27, 2019.
The Conservation Camp program helps firefighters with nontechnical firefighting tasks such as clearing forests in advance of wildfires and making sure wildfires are fully extinguished. Inmates must be nonviolent, nonserious and not sex offenders. They gain skills and typically earn credit toward a shorter sentence and $2 a day. The camp houses roughly 110 inmates.
This is the second such incident this year. On March 15, an inmate named Tyler Paul Weber, 28, walked away from the camp but was arrested in Santa Cruz six hours later.
Since 1977, 99 percent of offenders who have left a state adult institution, camp or community-based program without permission have been reapprehended, according to Aaron Yderraga, a spokesman for the CDCR.
The Santa Cruz County Sheriff's Office asks anyone with information to call 831-471-1121.
___
(c)2016 the Santa Cruz Sentinel (Scotts Valley, Calif.)