Experiencing Kenyan firefighting first hand
Texas Firefighter Josh Bardwell details his time working with the Africa Fire Mission in Kenya and how the experience changed his world view
---
By Josh Bardwell
As an American firefighter, I have always had some level of awareness of how fortunate I have been to have decent equipment, funding, and training provided to me in my volunteer and career fire agencies. With that said, I have oftentimes fallen into the all-to-common quagmire of being jealous of what other departments or agencies have that mine did not and feeling a level of frustration that I now feel guilty of. Sure, my home department and agency could enhance our response capabilities with more funding and training than we have, but after my time in Kenya with Africa Fire Mission (AFM) I realize that I have had it pretty darn good.
I came home from Kenya with a renewed perception of the fire service as a whole and the part I play in it thanks to the camaraderie of my fellow AFM instructors and the selfless students we met.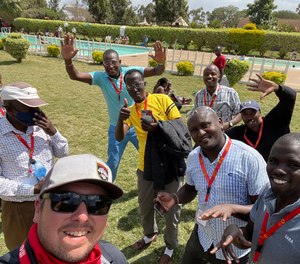 From walking through the Nairobi slums that are prone to fatal fires, to sitting on a football pitch discussing Wildland Urban Interface issues with our students, it quickly became apparent that many of our Kenyan counterparts are dealing with fire service issues that we rarely encounter in the United States. Pre-trip research prepared me to address typical firefighting issues like unreliable water supplies, staffing deficits, need for pre-planning for incidents, and implementing public outreach programs.
In less than two days in-country conversing with our Kenyan colleagues, I was exposed to the hard truth: that most of those firefighters face more danger from the public than the fire itself. While American firefighters are typically revered as local heroes and ranked as one of the most trusted professions, our Kenyan colleagues are not afforded the same level of public trust. This issue is complex stemming from national politics, creating a public distrust of government employees and a history of fatal fires, with delayed emergency response due to staffing shortages, no timely report of an incident, congested highways, lack of building codes, etc. Despite numerous tales of fire engines being stoned, fire hoses being cut and firefighters being assaulted, these brave Kenyan firefighters show up every day to do their duty.  It was incredibly humbling to see their devotion to the firefighting profession override their fear of harm.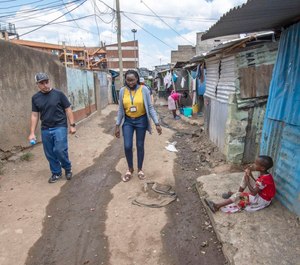 One of the things every firefighter is told is to never stop learning and refine their craft in the fire service. From structural to wildland, firefighters in the United States should be accustomed to cheap and readily available in-house, regional and virtual courses to build on their current skillset and qualifications. Often times we take for granted the ease of accessibility and cost efficient classes we have at our disposal. Talking to our students at the symposium, we learned that many of them traveled from hundreds of kilometers away on their own dime, cramming into single-cab fire engines or even hitching rides from the public traveling to the capital. Once in Nairobi, some even camped out because they couldn't afford lodging. Despite the hardships in travel and lodging, many consistently showed up everyday to learn new skills and to take that knowledge back to their fire brigades across the country. From initial introductions to the capstone live-fire exercise five days later, we were inundated with questions and real-world scenario situations from our students looking for more than book answers; they wanted our personal advice and it challenged us to step into their shoes and look at things in a different perspective. These questions ran the gamut of what to do about dangerous wildlife encounters on a wildfire to troubleshooting equipment issues without parts available. They were hungry to learn and open to thinking outside of the box. I found myself redirecting questions back to them to spur discussions, which helped getting these firefighters from different regions to begin collaborating. By the end of it, we were all fellow students learning from each other. I found that I probably learned more from the Kenyans than they learned from me, and that's ok.
After being home for a few weeks and back on the job, I am recognizing a few personal changes that I can contribute to my AFM journey. The biggest, and probably the most natural one, is recognition that we have too much frivolous stuff compared to people in the developing world. My wife and I have already begun culling out things we do not use or wear, attempting to scale back our purchasing, and reduce eating out as much. Another big change for me has been reevaluating what training we do (or have not been doing) at my local volunteer fire department and state fire agency. From back-to-the-basics fire tactics to trauma response, we have to maximize our efforts refining our craft so we can provide the best service possible to the public, every time. The third big change has been a renewed sense of brotherhood/camaraderie throughout the fire service and recognition that everyone from volunteer to career, structural to wildland, and Kenyan to Kansan has their place in this profession and something to contribute. We are all in this together and hopefully striving with the same sense of duty, respect and integrity to do the job to best of our ability. If we can maintain that, then we might just be able to make some citizen's worse day just a little bit better when we serve.
I encourage anyone, no matter your years of service, rank, title, or status to consider attending an AFM trip in the future, because you will find that you have something to offer and you will definitely come away better for it.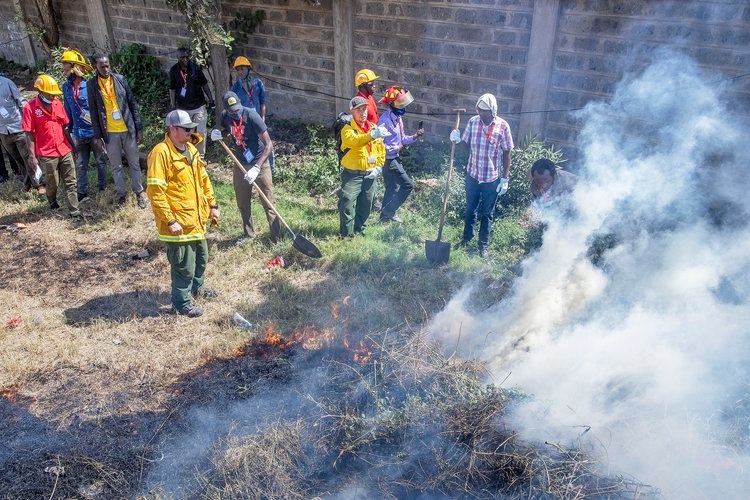 (Photo/Josh Bardwell)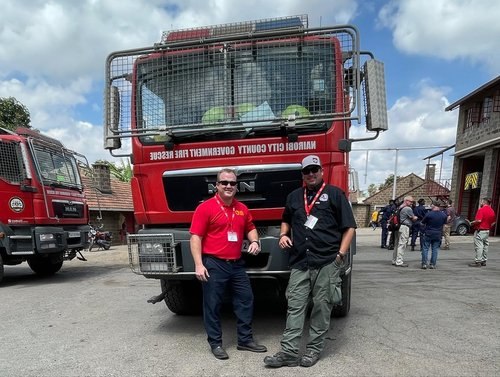 (Photo/Josh Bardwell)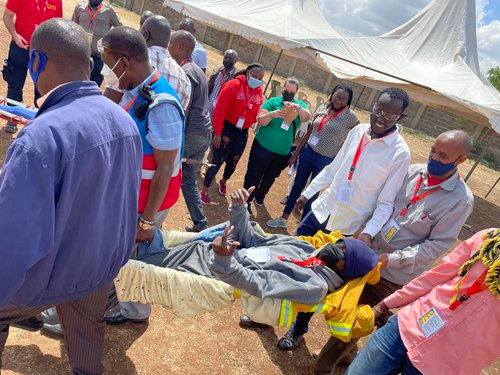 (Photo/Josh Bardwell)


About the author
Josh Bardwell is a 22-year fire service veteran, currently serving as a firefighter/EMT with Smith County Emergency Services District 2 in Whitehouse, Texas; the assistant training officer for the West Mountain Volunteer Fire Department in Gilmer, Texas; and as the primary helibase manager on the Southern Area Gold Team (National Type 2 IMT). He previously served as the state regional fire coordinator for the Texas Forest Service in northeast Texas. Bardwell has worked as a volunteer instructor for Africa Fire Mission as for two years.
This article originally appeared on the Africa Fire Mission blog.