France honors Paris firefighters with daylong tribute
French President Emmanuel Macron honored firefighters for the bravery and courage in fighting the fire that nearly devoured Notre Dame Cathedral
---
By FireRescue1 Staff
PARIS — French President Emmanuel Macron honored hundreds of firefighters who fought the massive fire at Notre Dame Cathedral earlier this week.
ABC News reported that, in a daylong tribute at Elysee Palace, Macron thanked the firefighters for their hard work to douse the flames and save precious historical artifacts.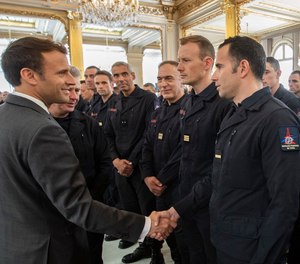 "We've seen before our eyes the right things perfectly organized in a few moments, with responsibility, courage, solidarity and a meticulous organization," he said. "The worst has been avoided."
Macron added that the firefighters will receive an Honor Medal for their courage.
Firefighter Marc Fournier was specifically honored for saving the cathedrals consecrated hosts.
Firefighter Myriam Chudzinski was also honored for being one of the first to climb the hundreds of steps to the top of one of the two towers and relaying the extent of the fire to those below before retreating back down.
It is thanks to the quickness of the firefighters that that the cathedral is still standing at all, José Vaz de Matos, a fire expert with France's Culture Ministry, said. The building would have "burned to the ground in a chain-reaction collapse," without them.