Video: Large fire burning at Beirut port near blast site
The warehouse blaze caused panic among residents still recovering from last month's devastating explosion
---
By Laura French
LEBANON — A large fire broke out Thursday at a port in Beirut, Lebanon, close to where a devastating explosion killed more than 190 people last month, including 10 first responders. 
Port officials said the fire appears to have started at a warehouse owned by a company that imports cooking oil, according to the New York Times. The fire then spread to an area storing rubber tires, causing clouds of black smoke to rise over the port, officials said.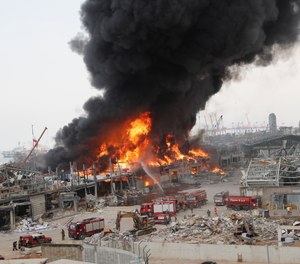 The blaze caused panic among residents who experienced the Aug. 4 explosion at the port, which was preceded by a fire at a warehouse storing approximately 2,750 tons of highly explosive ammonium nitrate. Nine firefighters and one paramedic were killed in the explosion while responding to the initial blaze. 
Residents and port workers fled their homes and offices and sought shelter after seeing the clouds of smoke from Thursday's fire. 
The Lebanese Army said in a statement that army helicopters will assist in fighting the blaze. Port officials denied that there was a risk of another explosion.
The Army is telling people in the vicinity of Beirut port to evacuate as another huge fire rages. This video is circulating showing workers fleeing the area pic.twitter.com/FxGLhM8Wl1

— Liz Sly (@LizSly) September 10, 2020