UL's FSRI tasked with investigating tragic Hawaii wildfire
State Attorney General Anne E. Lopez said the independent investigation will focus on the timeline and decisions during the wildfire
---
By Peter Boylan
The Honolulu Star-Advertiser
MAUI COUNTY, Hawaii — Professional fire investigators hired by the state attorney general have been probing the policies and performance of the state and Maui County during the Aug. 8 wildfires that killed at least 115 and displaced about 4,300 people.
State Attorney General Anne E. Lopez announced Thursday the selection of the Fire Safety Research Institute, a nonprofit research organization, as the third party that would handle the state's investigation.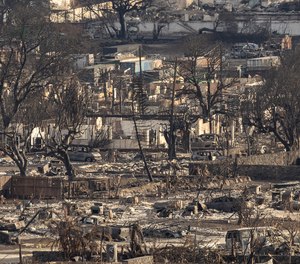 She told the Honolulu Star-Advertiser in an interview that the state contracted with Underwriters Laboratories Inc.'s FSRI to ensure "a completely independent investigation."
"This investigation is focused on this narrow period of time to really focus on what decisions were made and actions taken to ... identify the facts and what that timeline actually was," Lopez said Thursday, speaking in her Hale Auhau office on Queen Street. "We will follow those facts wherever they take us, but I'm not going to speculate on where those facts go."
FSRI's team of former firefighters, including inspectors, fire scientists and incident commanders, started work on Maui Aug. 24.
They will look into how Maui County and state agencies coordinated emergency alerts, evacuations, firefighting, communications and other aspects of the response to the wildfires, which destroyed more than 2,200 structures, caused about $5.5 billion in damage and severely set back the island's economy.
The purpose of the state's investigation is to collect facts to be able to understand the timeline of events on Aug. 8, Lopez said.
"The purpose of this is to make sure this never happens again, period. We need to know what happened. We need to know what functioned well, what didn't, so we can make recommendations for how the state and county should proceed going into the future," she said.
Lopez and her team will be briefed on FSRI's progress and findings every two weeks. None of the FSRI team are trained criminal investigators, but Lopez vowed to turn over any evidence of a crime to her department's investigators.
"We don't know what the facts are at this point. We need to uncover the facts, and based on what we uncover, I will follow that lead," said Lopez. "I will say, if the facts suggesting a crime occurred, then I will take that out of this investigation."
Lopez spent 24 hours on Maui on Aug. 24, meeting with FSRI's team, Mayor Richard Bissen, firefighters who battled the Lahaina fire, and survivors.
She also visited the Maui Emergency Management Agency and met with Maui's corporation counsel, Victoria J. Takayesu. She had the opportunity to travel through Lahaina.
"It was devastating. It's hard to say what the exact emotion was. When the firefighters started talking about what it was like for those 24 hours (Aug. 8), it was heartbreaking. These people are heroes," said Lopez, who noted the FSRI team and the firefighters on scene that day bonded over shared experiences. "They are part of that group of people who know what it means to fight a fire, and so I just sort of hung in the background and let them ... talk story about what happened."
The state's investigation is one of many inquests into the deadliest U.S. wildfire in 100 years.
Unlike California, Hawaii has not passed state statutes creating criminal penalties for large wildfires that allow for prosecutions like the one Butte County District Attorney Michael Ramsey conducted following the 2018 Camp fire.
That prosecution ended with Pacific Gas and Electric Co. pleading guilty to 84 counts of manslaughter.
The attorney general's investigation comes amid a series of lawsuits filed against Hawaiian Electric and Maui County by fire victims and investors. Maui County has also sued Hawaiian Electric to determine civil liability for the fires.
FSRI's investigators are working while county and private attorneys seek evidence through discovery, the county conducts an after-action report of its emergency management and the Maui Fire Department and U.S. Department of Justice's Bureau of Alcohol Tobacco Firearms and Explosives investigate the cause and origin of the Lahaina fire.
Lopez said she recognizes that traumatized communities need to know what happened Aug. 8. It's important that the answers they get "are accurate."
She said she does not believe quick answers are possible. A thorough, transparent investigation will help restore people's faith in the systems set up to keep them safe and what needs to happen moving forward.
"I don't know that people will ever have closure. That's obviously not my area of expertise. But I am committed ... to find all of the facts ... to come up with recommendations ... to make sure this never happens again," she said.
Third-party investigators
FSRI is a research institute dedicated to "addressing the world's unresolved fire safety risks" and emerging dangers, according to a news release from the state.
Its focus is on government agency actions up to and during the first 24 to 72 hours of the Lahaina fire and its aftermath, according to the state.
The investigation findings will be addressed in three phases, with the final report expected in late 2024.
"The FSRI team grieves with Maui residents in their suffering caused by the recent devastating wildfires," said Dr. Steve Kerber, FSRI vice president and executive director, in a statement. "We have been requested by the Attorney General to conduct an independent, broad-based analysis of the incident and will share our evidence-based learnings with the goal of answering stakeholder questions and preventing this type of tragedy from happening in the future. This will be accomplished by working closely with the Lahaina community, local emergency services, and federal, state, and local organizations."
Anyone with footage of the Aug. 8 fires in Lahaina is asked to email it to maui@ul.org.
FSRI is working independently and in parallel with other agencies, such as local emergency response service providers and emergency management, the ATF, U.S. Department of Defense, Federal Emergency Management Agency, National Institute of Standards and Technology, and U.S. Fire Administration for the purpose of "data and evidence sharing to streamline time frames and avoid duplication of efforts."
FSRI's work does not include an analysis of the cause of the ignition or reignition of the fire, according to the company.
Lopez will share information with the community at the end of each phase and when the investigation wraps up.
She also will share the recommendations directed to state and county agencies to "prevent and better prepare communities for future disasters."
The investigation's first phase will take about three months and focus on fact- finding about how the fire unfolded on Aug. 8. This phase will yield a "comprehensive timeline to be the foundation of the analysis."
The second phase will be about six months of data analysis looking at how "various fire protection systems functioned in this fire incident."
An Incident Analysis Report will be produced that includes review of policies and actions of state and county agencies in preparing for and responding to the incident.
The final phase will result in a forward-looking report to answer the question, "how do we prevent this from happening again?" It will include "recommendations, strategies and tactical considerations from subject matter experts."
(c)2023 The Honolulu Star-Advertiser
Visit The Honolulu Star-Advertiser at www.staradvertiser.com
Distributed by Tribune Content Agency, LLC
McClatchy-Tribune News Service