HURST Jaws of Life celebrates 50th anniversary
The company is marking its half-century milestone with a celebratory logo, challenge coins, and patches
---
By Leila Merrill
SHELBY, N.C. — HURST Jaws of Life is celebrating its 50th anniversary this year, the company announced Tuesday in a news release.
The company whose renowned tool launched the modern era of rescue tools is marking the half-century milestone with a celebratory logo, challenge coins, patches and more.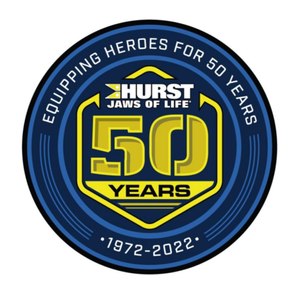 "HURST Jaws of Life has been an icon for the rescue tool industry for 50 years, and we're proud to celebrate this incredible anniversary along with our dealers who serve as ambassadors for the brand and the first responders who rely on the tools to save lives," said Britt Hawkins, manager, marketing services, HURST Jaws of Life.
As the anniversary campaign marks 50 years in the business, "it also recognizes the family heritage of first responders, where generations of families work together and children often follow in the footsteps of their parents and grandparents," the company shared.
George Hurst patented the first of these tools, and the company now makes cutters, combination tools, rescue rams, and more.
HURST Jaws of Life is part of IDEX Fire & Safety.
---

More about the Jaws of Life
How the Jaws of Life became a tool to snatch you from the jaws of death
The Jaws of Life were first created in 1961 and are now an indispensable tool for many fire departments.
---