Ohio FD looks to increase staff with funding request
The fire department is looking at also remounting ambulances and putting the medical bay from an old ambulance onto a new chassis
---
Brian Haytcher
Star Beacon, Ashtabula, Ohio
CONNEAUT, Ohio — Fire department officials are making their case for an increased levy to pay for additional staff.
The fire chief presented Conneaut City Council with information about their call volume and workload at council's work session on Monday as part of a discussion started in May about increasing the city's fire levy to pay for additional personnel.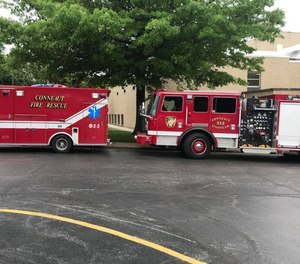 At May's work session, City Manager Jim Hockaday suggested increasing the city's 1.5-mill fire levy to 3 mills, to provide funds for three additional full-time firefighters. At a council meeting in May, the suggested number increased to 3.5 mills.
On Monday, Chief Steve Lee explained why the department is requesting additional funds. Currently, there are three full-time firefighters and one part-time firefighter on a shift.
"Really, we're kind of in a drought when it comes to part timers," he said.
That has led to difficulties with the availability of part-time firefighters, Lee said.
"The problem is, these guys, right now, they're doing the same thing I was doing when I was in their shoes and working part time: trying to get a full-time fire job somewhere," Lee said. "It can almost be like a revolving door."
The fire department currently has 10 full-time employees.
"So what we'd like to do, if possible, is to staff four full-time personnel (per shift)," Lee said.
To do so, the city would need to increase the fire levy.
A 3.5-mill levy would generate $650,000 per year and cost the owner of a $100,000 home $122 per year, a $70 increase over the current levy. Officials have said the money would pay for the three additional firefighters, and provide about $92,000 per year for equipment.
As far as equipment, the department is looking at remounting ambulances, putting the medical bay from an old ambulance onto a new chassis. The fire department is also in the initial stages of looking for a ladder truck, which Conneaut does not currently have.
There are generally between 1,600 and 1,700 medical calls per year for the fire department, Lee said. Last year, the department responded to 2,378 calls total.
The fire department also does building inspections, which Hockaday and Lee both addressed. The fire department has done about 100 inspections out of 600 buildings that need one.
"Part of the problem with that is manpower," Lee said.
The department has been focusing on buildings the city knows have egregious issues and resolving them, Hockaday said.
"It's more than walking in and checking smoke detectors, exit signs, and so on and so forth," he said.
Both Lee and Hockaday acknowledged the number of fire inspections needs to increase.
The department prioritizes places of public assembly for fire inspections, Lee said. Schools, churches and similar buildings are inspected every year.
A levy will most likely be on November's ballot, Council President Debbie Newcomb said. The size of that levy is still to be determined, though.
"They don't just respond to fire and EMS. They have a lot of other areas of expertise," Newcomb said. "I don't think maybe the average citizen knows everything they do. I'd like to see the public know more about" the levy.
In other business:
• At the next Conneaut City Council meeting, motions will be introduced to award contracts for sewer lining for 2019.
Sewer lining involves installing a lining inside existing pipes. The initial bid for the city's sewer lining came in above the cost estimates the city had received, and was rejected.
A new series of bids for the sewer lining were received, and, because the bid was well below what was expected Hockaday recommended the city include four alternates in the project.
———
©2019 the Star Beacon (Ashtabula, Ohio)
McClatchy-Tribune News Service