Siarnicki elected chair of CFSI National Advisory Committee
The NAC ultimately determines the issues that CFSI addresses on Capitol Hill
---
By Janelle Foskett
WASHINGTON — Chief Ron Siarnicki, executive director of the National Fallen Firefighters Foundation (NFFF) and a member of the FireRescue1 Editorial Advisory Board, was elected chair of the Congressional Fire Services Institute (CFSI) National Advisory Committee (NAC) during the committee's annual spring meeting earlier this month, according to the CFSI.
Siarnicki had previously served as the vice-chair of the NAC, and will replace Greg Cade of the NFPA, who served as chair for three years.
Craig Hannan of the International Fire Service Training Association (IFSTA) was elected vice-chair. 
The NAC – which ultimately determines the issues that CFSI addresses on Capitol Hill – is composed of 38 trade groups, issue organizations and professional associations, including the leading fire service organizations in the country.
During the latest NAC meeting, members approved three resolutions in support of national public safety issues:
A resolution in support of federal agency and congressional actions through increased funding and support for fire prevention.
A resolution recognizing the essential services that building and fire prevention departments provide and supporting investments that permit these departments to enforce building and life safety codes remotely.
A resolution recognizing that up-to-date national, consensus-based building codes promote fire and life safety while supporting housing choice and affordability.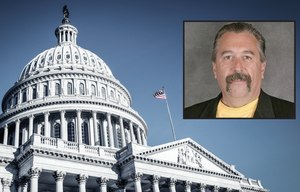 "I look forward to serving as the NAC Chair and appreciate the support I was given in being elected to this position," Siarnicki said. "I hope to increase involvement within the NAC and CFSI from all aspects of the fire service community, with special emphasis on those future leaders who will be the individuals making progressive advancements to our industry as we move forward. Each of us who are in leadership positions today have the responsibility to support and assist those coming behind us and must ensure solid succession efforts are in place."
The NAC spring meeting normally occurs the day after the annual National Fire and Emergency Services Symposium and Dinner Program, but CFSI made the decision in early March to cancel the Symposium and Dinner Program once the World Health Organization declared a global pandemic. This year's spring meeting was a virtual meeting.
Although the Symposium and Dinner program were canceled, the CFSI staff presented tentative plans to conduct an event in early October. This would provide CFSI the opportunity to recognize the 2020 recipients of its four national awards and extend its thanks and appreciation to its supporters. 
Additional information about the event is forthcoming.