2 Pa. firefighters dead, 2 injured in building collapse
Firefighters Ivan Flanscha and Zachary Anthony died after being transported to the hospital
---
Associated Press
YORK, Pa. — A section of a four-story building that once housed a piano factory in York, Pennsylvania, collapsed a day after a fire, killing two firefighters and injuring two others.
York Mayor Michael Helfrich said in a statement Thursday that firefighters Ivan Flanscha and Zachary Anthony died after being transported to York Hospital. Helfrich said Assistant Chief Greg Altland and firefighter Erik Swanson were in stable condition and being treated for non-life-threatening injuries.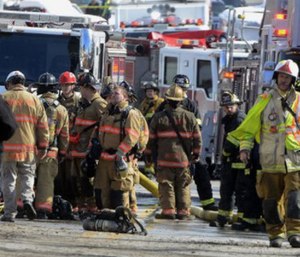 York officials say part of the fell on the firefighters as they were looking for hot spots and the cause of a fire that broke out Wednesday. The Weaver Organ and Piano factory was being converted into residential units.
York is about 100 miles (about 160 kilometers) west of Philadelphia.