Cal Fire dozer operator's body recovered near Yosemite
Firefighters from Cal Fire Local 2881 had been standing sentinel over Braden Varney's body since he was killed
---
By FireRescue1 Staff
MARIPOSA, Calif. – Rescue crews recovered the body of veteran Cal Fire dozer operator Braden Varney, two days after he died fighting the Ferguson Fire near Yosemite. 
With help from California Urban Search and Rescue Task Force 5, CAL Fire announced they had recovered Varney's body from the "accident site," reported KDRV.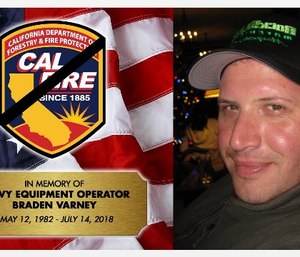 Firefighters from Cal Fire Local 2881 had been standing sentinel over Varney's body since he was killed, "coming and going in shifts, hiking in and out of the remote niche, in a revolving honor guard," reported SFGate. 
The Merced Sun reported that Varney had been bulldozing vegetation around the Ferguson Fire to help stop the spread.
"Please continue to keep Braden, his loved ones and all responders on the front lines in your thoughts and prayers as they continue to work under extremely challenging conditions," CAL FIRE said in a statement.
Varney, 36, who is survived by his wife and two small children. His father was also a HFEO for CAL FIRE. 
Members of the public paid their respect along the route upon which officials carried Varney's body to the Stanislaus County Coroner's Office on Monday.