Calif. firefighter killed battling Ferguson Fire near Yosemite
Heavy equipment operator Braden Varney, 36, was killed when his bulldozer rolled over
---
By Ashleigh Panoo And Vikaas Shanker
The Fresno Bee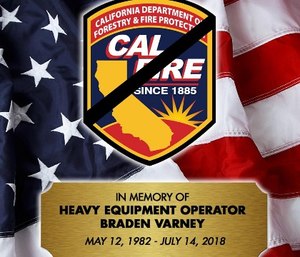 EL PORTAL, Ca. — A firefighter died Saturday morning while battling the Ferguson Fire west of Yosemite National Park, Cal Fire said.
Heavy equipment operator Braden Varney, 36, was killed when his bulldozer rolled over in steep terrain near El Portal in Mariposa County.
Varney, of Mariposa, leaves behind a wife and two small children, according to statewide Cal Fire spokesman Scott McLean. Varney had been with Cal Fire for a decade.
He was part of the Cal Fire unit that was assisting Sierra National Forest crews, Cal Fire Unit Chief Nancy Koerperich said.
Varney was cutting a fire break to prevent the blaze from spreading when his bulldozer rolled over and he was killed, Koerperich said. The bulldozer ended up at the bottom of a ravine and Koerperich said rescuers were not able to retrieve Varney's body Saturday afternoon. She described it as in a "very precarious" situation but "we're certainly going to do everything in our powers to bring Braden home" by Saturday night.
Koerperich said Varney had been working since the fire broke out Friday night and was on his way out of the fire area when the rollover happened. The accident is under investigation.
Koerperich said Varney's father was a bulldozer operator. "That was in his blood." She said Varney grew up in the Mariposa community.
"If there's people that leave a footprint wherever they go, Braden is one of them. He's just a really nice guy that would do anything for anyone. He does a lot of work in the community," Koerperich said.
Mariposa County Supervisor Kevin Cann said, "Braden was an outstanding young man, a super-hard worker and well-respected throughout the community. This will devastate our very close community. Our hearts are broken for his wife, mother, children and all his close friends."
Gov. Jerry Brown issued a statement on Varney's death, saying he and his wife are deeply saddened. Brown called Varney "a man who dedicated his life to protecting his fellow Californians."
"We extend our deepest sympathies to his family, friends and many colleagues who are mourning this sudden and tragic loss," Brown added.
Flags at the state capitol were ordered lowered to half-staff.
The Ferguson Fire began Friday night and has prompted mandatory evacuations and a closure of Highway 140 near El Portal. It was 5 percent contained by midday Saturday.
McLean released a statement Saturday afternoon confirming Varney's death: "Please join us in keeping Braden and his loved ones in your prayers and all the responders on the front lines in your thoughts as they continue to work under extremely challenging conditions."
Cal Fire's last death came in December 2017, when another firefighter, Cory Iverson, was killed on duty. He was battling the Thomas Fire in Santa Barbara and Ventura counties. Earlier in 2017, a Cal Fire contractor and two inmates assigned to firefighting crews were also killed in three separate incidents.
Copyright 2018 The Fresno Bee