LODD: NJ firefighter dies from apparent heart attack after training drill
Erskine Lakes Fire Company #1 Firefighter John Jonker Sr., 80, collapsed shortly after returning home from duty on Feb. 10
---
By Laura French
RINGWOOD, N.J. — A New Jersey firefighter died from an apparent heart attack shortly after participating in a training drill last week. 
Erskine Lakes Fire Company #1 Firefighter John Jonker Sr., 80, collapsed a short time after returning home from duty late at night on Feb. 10, according to the U.S. Fire Administration. Attempts to revive him were unsuccessful and he died due to an apparent heart attack.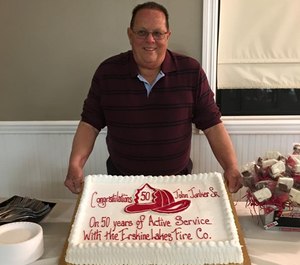 Jonker had been a member of the Erskine Lakes Fire Company #1 for 55 years, according to his obituary. He was honored for 50 years of active service in April 2016. His son, John Jonker Jr., serves as the vice president of the fire company, according to the agency's website. 
A funeral service for Jonker was held on Feb. 15. The family requested donations to the fire company in lieu of flowers.