Funerals set for N.J. FFs killed in cargo ship blaze
Funerals for both Newark firefighters will be held at the Cathedral Basilica of the Sacred Heart
Duty Death: Augusto Acabou and Wayne "Bears" Brooks, Jr. - [Newark, New Jersey]
End of Service: 07/05/2023
---
By Steven Rodas
nj.com
NEWARK, N.J. — Plumes of gray smoke lingered in the Newark sky and explosive pops occasionally echoed Friday as first responders fought a multi-day fire raging at the port.
But on Murray Street, it was quiet as the words of family, friends and fellow firefighters — shattered by the sudden loss of two men hailed as heroes — were spoken Friday during a press conference eulogizing them four miles away.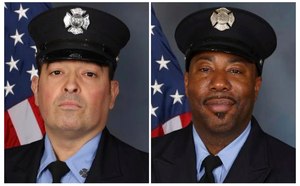 Newark firefighters Augusto "Augie" Acabou, 45, and Wayne "Bear" Brooks Jr., 49, died after they were trapped aboard the Grande Costa D'avorio, a cargo ship berthed near Export and Marsh streets in the city where a fire broke out Wednesday night. Funerals for both men will be held next week at the Cathedral Basilica of the Sacred Heart in Newark.
The death of both men, with 25 years of service between them, prompted a call from President Joe Biden on Thursday, the families said.
"That's because of a thing called brotherhood. That brotherhood and sisterhood that we've been experiencing, getting tremendous support calls from across the country. From the President to police departments, fire departments in New Jersey and across the country," said Eddie "BOA" Paulo, Acabou's childhood friend and vice president of the Newark Firefighters Union.
The family of Brooks Jr. was equally touched by the show of support, including corresponding with Biden, who extended an invite to the Oval Office.
"(The president) spoke from his heart. He spoke about things only Wayne could know. Things he could only know if someone actually dug into his background," Michele Brooks told NJ Advance Media after the press conference. "It was a very genuine back-and-forth conversation. We were very grateful."
More than 30 people filed into the Newark Firefighters Union office on Murray Street in Newark on Friday at midday.
The halls inside were decorated with photos of Newark firefighters responding to harrowing incidents over the years. When asked if any of the frames showed Acabou or Brooks Jr'. a staff member — preparing for the press conference — remarked "not yet."
As the event began, Michael Giunta, Newark Firefighters Union president, emphasized that the gathering was being held to shed light on the two men's lives and not to discuss the ongoing fire investigation — which he said would be addressed at a later date.
The 692-foot-long ship was carrying more than a thousand vehicles when it caught fire at about 9:38 p.m. Wednesday, officials previously said. Firefighters from Jersey City, Newark, Elizabeth, and numerous other municipalities fought the blaze in which five other firefighters were also injured. They were expected to survive.
Even two days after the incident was reported, crews continued to fight the powerful fire on Friday.
The National Transportation Safety Board said Thursday that while it is investigating the cause of the ship fire the Coast Guard is taking the lead.
Acabou remembered for commitment, affection
"Augie," as he was affectionally known, is survived by two brothers, one of whom is a police officer in Clark.
He was remembered by family and friends as a steadfast first responder but also a San Francisco 49ers fan and graduate of East Side High School, where he played football.
"He maintained a special bond with an assistant football coach from high school who was battling cancer and he would often run errands and provide support for him during his treatments. We only just learned about that this week," Acabou's cousin and Newark Fire Capt. Carlos Henriques read from a statement prepared by the family at the press conference.
"Those were the little things he did for the people in his life," Henriques added. "At family parties, he entertained all the kids as a boxer. He was over the moon when he spotted Muhammad Ali and posed for a photo together pretending to throw a punch ... His commitment to the job was unwavering and his legacy will inspire those who follow in his footsteps."
At the family's home about a block away, a Newark police cruiser was parked out front.
The porch, where police officers and firefighters dropped in all day Thursday to extend condolences to the family, was barren Friday morning.
Paulo, Acabou's childhood friend, said the last time he spoke to him was a week ago. It regarded an upcoming company softball game, he said, laughing at the thought.
"It's so easy to say after so many passings, 'He's the nicest guy ever.' That's a cliche to everybody but when it came to Augie he truly was the nicest guy in the world," Paulo said after the press conference. "When it came to Augie, he truly did not have a bad bone in his body. That's what I'll remember most about him."
'A gentle giant'
Michele Brooks donned a light lavender and black dress and hid her grief behind dark sunglasses Friday.
Glistening above her dress was a Newark Fire Department necklace with "883″ etched onto it. It was her husband's badge number, assigned to each firefighter when they get the job.
"I actually put it on this morning. This was a gift I gave to Wayne for Christmas years ago. And he happened to leave it on the dresser before he went to work that day," Michele said remembering the night of the fire.
Michele, the wife of "Bear" as he was dubbed for his affinity to the NFL football team from Chicago, could barely muster the energy to sit down as the press conference to eulogize the men got underway.
She was supposed to speak at the podium. She couldn't do it, she said after.
"That was something I left for his fellow firemen to do," Michele, 46, who was married to Brooks Jr. for nearly 9 years, told NJ Advance Media after the event finished.
"He was the love of my life," Michele said breaking up in tears and surrounded by her daughters, Taylor, 21, and Daisa, 27, who held her.
"We're taking it one day ... one minute, one second at a time," Taylor said.
How will the family get through the next few days?
"Honestly, I don't really have an answer for that," Michele said. "But I can say this, it's only been a day. The outpouring of love and support from family, friends, the community, the fire departments ... the police mowed our lawn this morning. The support, it's much appreciated."
Michele said her and their daughters' nickname for Wayne was "Two Arms," because of his size and how his presence and love embraced them.
"He was a big guy. He was a strong guy and he just exuded that in everything — a gentle giant," Michele said.
Brooks Jr., a 1992 fencing champion at St. Benedict's High School who enjoyed cooking, was a fan of the Chicago Bears and Bulls, as well as Michael Jordan, his family said. The veteran firefighter was known for mentoring new firefighters in the department.
As the gathering winded down, Giunta, firefighter's union president, spoke of the responsibility the department and union had to both men.
"Firefighting is a family," he said. "The Acabou family and the Brooks family are part of our family today, and always will be forever."
To support the families visit www.gofundme.com/f/s6veq-support-the-families-of-ff-acabou-ff-brooks.
Viewings and funerals for both men will be held at the Cathedral Basilica of the Sacred Heart next week. A viewing for Acabou will be held Wednesday from 4 p.m. to 8 p.m. with a funeral service on Thursday at 10 a.m. A viewing for Brooks, Jr. will be held Thursday from 4 p.m. to 8 p.m with a funeral service Friday at 10 a.m.
NJ Advance Media staff writers Anthony G. Attrino, Brent Johnson, Jackie Roman, Ted Sherman, and Steve Strunsky contributed to this report.
©2023 Advance Local Media LLC.
Visit nj.com.
Distributed by Tribune Content Agency, LLC.
RELATED: N.J. port firefighting, FD training questioned in deadly ship fire
McClatchy-Tribune News Service