LODD: Mich. firefighter dies after suffering medical emergency
Detroit Fire Department firefighter Michael Lubig was ending a 24-hour shift when he suffered a medical emergency at the fire station
Duty Death: Michael Lubig - [Detroit, Michigan]
End of Service: 11/12/2018
---
DETROIT — A firefighter died Monday after suffering a medical emergency at his fire station.
The Detroit News reported that Detroit Fire Department firefighter Michael Lubig, 46, was ending a 24-hour shift as an acting sergeant last Thursday when he suffered an unknown medical emergency at the station, according to Fire Commissioner Eric Jones.
He was transported to the hospital by his colleagues, where he later died.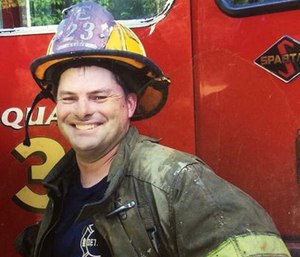 Jones said Lubig had battled three blazes and responded to one medical call during his shift.
Lubig joined the department in 1999 and was a second-generation firefighter. His colleagues and family members said he appeared to be the picture of health, recently participating in a half-marathon.
Detroit Fire Fighters Association President Mike Nevin said Lubig, who was affectionately referred to as "little buddy" by his colleagues, was always in good spirits.
"He was a small guy in stature, but his heart was as big as anyone's. He was always smiling," Nevin said. "He was a lover of life, more than anything."
Nevin added that Lubin was always willing to help out his colleagues for only a "beer and a couple laughs" in return.
"He was a wonderful man. He's got a wonderful family," he said. "This is just a real tragedy."
Lubig's wife, Lisa, posted a touching tribute to him on Facebook.
"Rest in peace my love. You were my life, my love, my hero. I don't know how to live life without you," she wrote. "Our DFD family is here for us, as well as all of our family from far and wide ... Nothing can compare to the love, comfort and support they have given and I know will continue to give. I hope you can rest easier knowing they are taking care of us."