Md. volunteer firefighter dead after responding to fatal crash
Firefighter Michael Powers suffered a medical emergency while responding to a call
Duty Death: Michael "Mike" Powers - [Libertytown, Maryland]
End of Service: 06/25/2019
---
Jeremy Arias
The Frederick News-Post, Md.
FREDERICK, Md. — A veteran volunteer firefighter from Frederick County suffered an injury and died after responding to a crash that killed a 22-year-old New Windsor resident in Unionville earlier Tuesday.
Firefighter Michael Powers collapsed at the scene of the crash, which was reported at 12:54 p.m. on Liberty Road at Unionville Road near the eastern Frederick County line.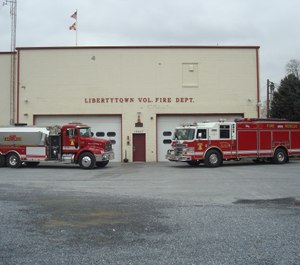 FREDERICK FIRE & EMS PRESSER

FREDERICK FIRE & RESCUE PRESSER: Frederick Memorial Hospital is holding a press conference regarding the death of a volunteer firefighter on Tuesday afternoon. MORE: https://bit.ly/2Ngpvz0

Posted by ABC 7 News - WJLA on Tuesday, June 25, 2019
Powers arrived there driving one of the engines from the Libertytown Volunteer Fire Department, according to Frederick County Division of Fire and Rescue Services Chief Tom Owens, who appeared at a press conference at Frederick Memorial Hospital at 5 p.m. Tuesday. The head-on collision between a tractor-trailer and a car left a significant amount of debris in the road, Owens said. Powers bent over to clear some debris after he pulled up.
"In doing so, he experienced a serious medical injury and collapsed on scene," Owens said, adding that Powers was rushed to Frederick Memorial Hospital for treatment, but was ultimately pronounced dead at 2:21 p.m.
Firefighters and emergency rescue personnel back at the crash scene also determined that one of the people involved in the crash, Kevin N. Tevelow, the driver and sole occupant of a 2016 Volkswagen, died as a result of the collision, according to a state police press release issued shortly before 6:30 p.m.
"The Volkswagen was traveling west on [Md.] 26 and attempted to pass a vehicle in the passing zone over the dotted yellow line, but failed to yield to eastbound traffic," said Sgt. Adam Matthai, a supervisor with the Maryland State Police's Frederick barrack, explaining that the car collided head-on with a 2016 International tractor-trailer hauling a tanker full of water.
Evidence collected at the scene and interviews with witnesses indicate the tractor-trailer tried to swerve onto the eastbound shoulder to avoid striking the car, according to the release.
Powers' body was escorted in a small procession down Interstate 70 to the Office of the Chief Medical Examiner in Baltimore for an autopsy, Owens said.
The driver of the tractor-trailer, 60-year-old Ricky H. Hyde, of Manchester, Maryland, and his passenger, 58-year-old George N. Riggle III, of Millers, Maryland, suffered injuries that were not considered life-threatening, and they were taken by ambulance to a hospital in Carroll County for treatment, according to the press release.
All lanes of Liberty Road were reopened to traffic at about 6:30 p.m., according to the release. Collision reconstruction experts and members of the Maryland State Police Commercial Vehicle Enforcement Division collected evidence and examined the scene, Matthai said.
The Frederick County State's Attorney's Office was also contacted to determine if criminal charges were applicable as a result of the crash, the release states.
A loss for the county
Chip Jewell, the current president of the Libertytown Volunteer Fire Department, arrived immediately behind Powers' engine and watched his longtime friend make his way to the debris-strewn road.
"I saw him lean down, presumably to move some of the debris, and he didn't come back up," Jewell said. "He just collapsed."
Jewell knew Powers for nearly 50 years, serving with him at Libertytown since the early 1980s when Powers bought a house in Mount Airy and transferred from the Carroll Manor Volunteer Fire Co. Powers, who worked for Montgomery County Public Schools, started volunteering more than 40 years ago at the Brunswick Volunteer Fire Co., according to Jewell, who is also the immediate past chief of the county's Volunteer Fire and Rescue Association.
Powers was known for his sense of humor and willingness to serve wherever he could, often manning the raffle booth at Libertytown's annual fundraiser carnival. As he grew older, Powers often served the company as a driver, but never passed up the opportunity to respond to calls.
"He got out of bed at 4:20 this morning to respond to a fire call and, when the fire apparatus was canceled, we went back to the station," Jewell said, remembering the last hours he spent with Powers.
Shortly after the first call was canceled, Powers and Jewell responded to a second call, this time for a medical emergency, a short time before 5 a.m., then headed back to the station, where they reminisced and traded jokes.
"Little did I know that that friend would be gone just a short time later," Jewell said.
Information regarding a service or other ceremony to honor Powers and his volunteerism will be released later in accordance with his family's wishes, Owens said.
"He has served us well," Owens said. "Our loss is the loss of our county and of his family."
———
©2019 The Frederick News-Post (Frederick, Md.)
McClatchy-Tribune News Service