New tech in ambulances gives real-time monitoring capabilities to Ark. first responders
The Bella Vista Fire and EMS Department among first in the nation to launch cerebral oximetry machines in two of its ambulances
---
By News Staff 
BELLA VISTA, Ark. — The Bella Vista Fire and EMS Department now has the capability to monitor blood flow to the brain in real-time. 
According to 5 News, the department is one of the first in the nation to launch cerebral oximetry machines in two of its ambulances thanks to state funds. The technology allows paramedics to monitor patients who are sedated to improve the odds of a positive outcome.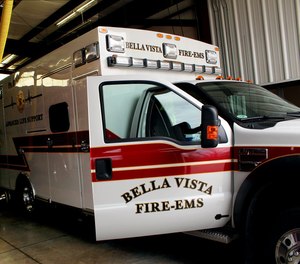 Paramedics can use this technology in patients who experience cardiac arrest, TBIs or when the patient's airway is compromised. 
"Paramedics use paralytics when intubating patients when there is a potential to gag," EMS Coordinator Leon Lieutard said. "However, some paralytic meds last longer than sedation meds. A paralyzed patient can't tell the medic they are not sedated, or they need more sedation. With the ability to monitor brain activity, this is no longer an unknown."
The new tool will notify paramedics if blood is not getting to the brain, prompting medics to position patients differently or provide a more suited method of treatment.