Helping allies in need: How mutual aid is a lot like NATO
Just like allied forces, firefighters from around the world come together to face natural and manmade disasters
---
The world is in a dynamic state. Aggressive action between countries and aggressive fire behavior in Australia. Both are bringing – and will bring more – death and destruction.
One thing is certain: No matter what country or what agency, we need each other's help.
When you think about it this way, you can see clear comparisons between the fire service system of mutual aid and NATO's efforts to secure safety and security for its member countries.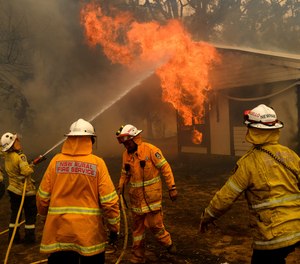 NATO: How it works
Most of you are familiar with NATO – the North Atlantic Treaty Organization – an intergovernmental military alliance among 29 North American and European countries.
NATO is committed to the peaceful resolution of disputes; however, if diplomatic efforts fail, it has the military power to undertake crisis-management operations. These are carried out under the collective deference clause of NATO's founding treaty – Article 5 of the Washington Treaty – or under a United Nations mandate. Put in other terms, NATO constitutes a system of collective defense, as the member countries agree to mutual defense in response to an attack by any external party.
As examples of NATO's actions, at its July 11, 2018, meeting, NATO approved new steps to contain Russia. These include two new military commands and expanded efforts against cyberwarfare and counterterrorism. It also developed a new plan to deter Russian aggression against Poland and the Baltic States.
A few years prior, on Nov. 16, 2015, NATO responded to the terrorist attacks in Paris. It called for a unified approach with the European Union, France and NATO. Although Article 5 states, "an armed attack upon one ... shall be considered an attack upon them all," France did not invoke NATO's Article 5. That would be a formal declaration of war upon the Islamic state. France preferred to launch air strikes on its own.
The only time NATO invoked Article 5 was after the 9/11 terrorist attacks.
NATO responded to U.S. requests for help in the war in Afghanistan against the Taliban and al-Qaeda forces. A NATO coalition took the lead from August 2003 to December 2014. At its peak, NATO deployed 130,000 troops. In 2015, it ended its combat role and began supporting Afghan troops in ongoing battles against Taliban insurgents.
Security in our daily lives is key to our well-being. NATO's purpose is to guarantee the security of its members through political and military means.
Mutual aid: How it works
Large-scale incidents require many resources for successful mitigation. Firefighting forces must always consider the possibility of fire and other incidents that can exceed their capacity to respond. For this reason, most fire departments have rendered mutual assistance to other departments in times of need.
At its most basic, mutual-aid plans establish procedures so that each responding agency will know what is expected of them, and of the others, in that time of need. Mutual-aid agreements also include provisions for standard operating procedures (SOPs), interdepartmental communications and command responsibility for the participating departments.
Mutual aid allows for local firefighters to respond to their local 9-1-1 calls, like heart attacks, traffic collisions, structure fires, etc., and even gaining the necessary help to battle the largest wildfires.
The allied forces of mutual aid
During major incidents, it is imperative that agencies focus on large-scale organization, professionalism and teamwork for effective coordination – much like how NATO operates its coalition of forces, all for the greater good of the member nations.
As I write this article, the U.S. fire service has sent over 100 firefighters to Australia and deployed additional resources to Puerto Rico to assist after a major earthquake. Such international coordination is essentially expanded mutual aid.
The U.S. and Australia have been trading fire service assistance for the last 15 years, serving as each other's allied forces when nature strikes. The most recent exchange occurred in August 2018, when 138 Australian and New Zealand wildfire management personnel were sent to the U.S. for almost 30 days to assist with wildfire suppression efforts in Northern California and the Northwest. The Australian and New Zealand personnel filled critical needs during the peak of the Western fire season for mid-level fireline management, heavy equipment, helicopter operations and structure protection. And now the U.S. is returning the favor, much like allies do in wartime.
Time to help our allies
There's no doubt as the world changes and more disasters, both natural and manmade, occur, we will see both our NATO allies and mutual-aid allies from other parts of the world come together. No agency or no country can handle these large-scale incidents alone. Earthquakes, floods, hurricanes, tsunamis and other incidents bring devastation, especially in populated areas. This is where our urban search and rescue, swiftwater rescue and medical assistances come into play.
Bottom line: Disasters are becoming more frequent and require additional support, so we need to come together more than ever!