The Golf Course fire: Managing a big response with a small department
Why mutual-aid agreements and local cooperation is important for small departments to stretch their resources
---
June 28, 2018 was a red flag day throughout most of Colorado. The state had been in a serious drought for months, and by summer, the weather was hot, with single-digit humidity and wind gusts up to 30 mph. Several large fires were burning around the state, including one in southern Colorado that had already destroyed a number of homes and other buildings.
On that day, four fires started in Grand County, Co., a large mountainous area about two hours northwest of Denver. Two small fires were started by lightning in Rocky Mountain National Park. Another large fire caused by lightning blew up in an uninhabited area of Forest Service land in the southwest part of the county.
And then there was the Golf Course fire.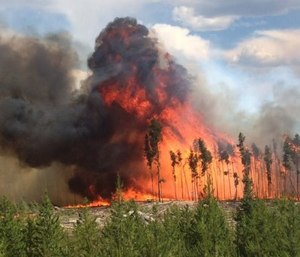 A quickly-spreading nightmare
At about 1430, the Grand Lake Fire Department received a report of smoke on land adjacent to the local golf course. The land had been developed with hiking and mountain biking trails and was in close proximity to many homes. The area suffered huge tree losses during a pine beetle outbreak during the last decade, and large parts of the area had been logged off just last fall, with vast amounts of slash and dead wood still on the ground.
I spoke with Grand Lake Fire Department Chief Mike Long about the challenges of this fire and how the response unfolded. 
Four people were on duty at the fire station when the alarm came in, including Long. Long arrived in the vicinity of the fire within three minutes of the alarm and saw a fire burning on around half an acre of slash. Within minutes, the fire had more than doubled in size and was climbing into the canopy of living trees. Wind driven spot fires were visualized up to 50 yards away.
With limited local resources, decisions had to be made quickly. The fire was still relatively small but spreading fast, directly toward densely populated neighborhoods. With 15 years of experience as chief in Grand Lake, and 24 years in the fire service overall, Long knew that this fire had the greatest potential for large property loss compared to any other fire he had previously responded to.
Reaching out for Mutual Aid
A full wildland response from the other four Grand County fire districts was ordered. In addition, a recently formed Mountain Area Mutual Aid agreement was activated, which immediately mobilized resources from Routt, Summit and Eagle Counties. Additionally, two heavy air tankers and two helicopters were ordered and began operations at the fire within hours. Resources from the U.S. Forest Service and the National Park Service were also accessed.
Within the first half hour of operations, 30 homes were identified as being in imminent risk of destruction from the fire. In addition, wind driven spot fires threatened another 800-900 structures. Mandatory evacuation orders for all these homes occurred within two hours of the start of the fire.
This fast-moving incident would have been a challenge for an agency of any size, but Grand Lake Fire Department has only four paid firefighters supplemented by about 20 residents and volunteers. The Grand Lake Fire Protection District covers 105 square miles, much of it encompassing federal lands and second homes. With an annual budget of only $700,000, the department is limited in its response capacity for large incidents.
Help from AFMO and Forest Service crews
Still, the department had some good luck in the first hours of the event. One lucky break was the fact that an Assistant Fire Management Officer (AFMO) with the Forest Service happened to be in nearby Rocky Mountain National Park to oversee the small fires burning near there. When he was notified of the critical nature of the Golf Course fire, he diverted an air tanker from another fire in the state and was also able to mobilize a helicopter.
"Two weeks after the fire, I found out how we got those air tankers," Long said. The AFMO had contacted Ft. Collins Interagency Dispatch Center and told them, "'These guys are asking for air tankers. They really need them and here's why.'"
Forest Service crews mobilized to smaller, less threatening fires were also able to join fire suppression efforts on the Golf Course fire.
At the peak of the incident, more than 25 different agencies were assisting with the incident, from other fire and emergency services agencies, to the Red Cross and local businesses. The challenges were considerable. Ordering and coordinating resources was at times chaotic during the initial attack. County responders did not have a lot of practice with complex fires of this type. Access to the seat of the fire was limited. There was no water for suppression efforts on site, and air operations had to be suspended for a time due to a privately-owned drone flying in the area.
Local and national cooperation made the difference
But, in the end, no structures were lost to this dangerous and fast-moving fire, and the burn area was confined to less than 30 acres. Long attributed that outcome to the rapid response and willing cooperation among all the different agencies involved.
"Response agencies in Grand County communicate well," Long said. "All the fire districts, the sheriff's office, county road and bridge departments, EMS – we all work very well together."
Quick establishment of unified command allowed for efficient delegation of responsibility.
"While law enforcement was dealing with evacuations, the Office of Emergency Management was coordinating logistics for food, shelter, toilets and those kinds of things, and I was dealing with the actual fire suppression," Long said. "The sheriff represents the county and was the liaison with the state."
This level of cooperation came about through effort and planning. Just a week before the fire started, the Grand Lake Fire Protection District had hosted a wildfire community preparedness meeting. County fire chiefs get together quarterly and there is also a Grand County training officers' group which sponsors county-wide training. Grand Lake Fire hosts a large, multi-agency event for Fire Prevention Week each year, which has led to improved communication and relationships within the county.
"Whenever there are opportunities to work together, we jump on it," Long reported.
This spirit of cooperation has paid off multiple times in recent weeks.
"Chuck Vale is a regional official with Homeland Security who is stationed in Routt County," Long said. "He came over even though we never asked for him. He just heard it on the radio and he said, 'It sounded like you were going to need help, Mike, so I came over.'"
Just a few weeks later, during a subsequent fire incident in Rocky Mountain National Park, Long was able to pay it forward.
"We got asked to send a water tender up to support them and they said to fill out the time sheets to get paid. I said, 'You know, you guys have done so much for us at the Golf Course fire and with grants being available, I'm not going to submit any paperwork. Just take it as a thank you.'"
Sharing resources is crucial for small fire departments
The department also benefited from the fact that for years, members have participated in other wildfire events as cooperators, which commits department resources for up to 14 work days on fires within the larger region.
There is risk to committing department resources in this way, Long admitted.
"But, unless we're in very high or extreme fire danger, that risk is a small price to pay to get my people out to see fire like this somewhere else before they see it here," he said. There is also an income benefit from department participation. "It's paid for a couple fire engines, as well as building a tremendous experience base for our officers and firefighters," Long said.
In the aftermath of this successful operation, Long commented on the overwhelming appreciation the department has felt.
"Sometimes we get beat up on stuff. But recently I've lost count of how many times I've been hugged by people who say 'thank you for saving my home,'" he said. "There's never been another time that I have felt better about being in this fire department than I have in the last couple months."
That success and regard is shared among all the first responders and other agencies that contributed to the positive outcome.
"As a small department, we can't staff up for this kind of worst-case scenario," Long said. "You've got to have friends."