Wash. volunteer FF breaks world record for running one mile in full turnout gear
South Whatcom Fire Authority Firefighter James Jasperson ran a mile in full firefighting gear in 6:33.28 seconds to raise money for charity
---
By FireRescue1 Staff 
BELLINGHAM, Wash. — A Western Washington University student and South Whatcom Fire Authority volunteer firefighter broke the Guinness World Record for completing a mile-run in full structural firefighting gear with the goal to raise money to help veterans and first responders.
The Lynden Tribune reported that James Jasperson, 23, ran a mile in just 6:33.28 and raised $1,300 for the Four Seasons Firefighters, a non-profit organization that was started by his friend, Zach Ames, to help first responders that have been affected while serving.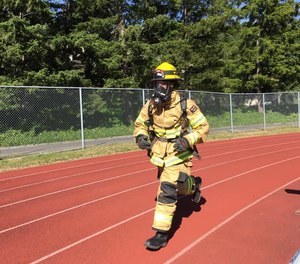 "We raised enough money with this alone that it pays to take a double-amputee veteran out on a hunting trip for a week," Jasperson said. "Everything's paid for him. They're going to take him out, show him a good time and show him there's still a reason to be here; that they deserve this for their sacrifices and everything they've done for us."
Guinness World Record officials have not officially verified Jasperson's record. He explained that the record will not likely be up on Guinness' website for another year as the process is lengthy and time consuming.
The next step for Jasperson is to win the Firefighter Stairclimb in Seattle next year. He hopes to raise money for the Leukemia & Lymphoma Society.