NH official asking for NIOSH study on firefighter health
Assistant Mayor Cliff Lazenby is looking for support as he lobbies NIOSH to conduct a study on firefighters who have been exposed to PFAS chemicals
---
By Jeff McMeny
Portsmouth Herald
PORTSMOUTH, N.H. — Assistant Mayor Cliff Lazenby will ask the rest of the City Council to support his efforts to lobby the National Institute of Occupational Safety and Health (NIOSH) to conduct a health study on firefighters who have been exposed to PFAS chemicals.
Lazenby said he intends to ask the City Council at Monday's meeting to send a letter signed by Mayor Jack Blalock and the council asking NIOSH to conduct such a study.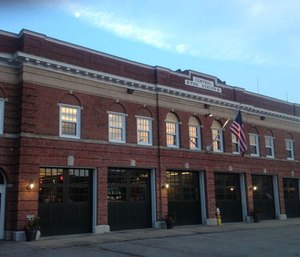 "I am hopeful to have full support of the City Council," Lazenby said Friday.
The Agency for Toxic Substances and Disease Registry announced in September that firefighters weren't going to be included in the first-ever national study on people exposed to PFAS chemicals in their drinking water because firefighters could be exposed to PFAS in other ways.
U.S. Sen. Jeanne Shaheen established the first-in-the-nation study on PFAS exposure in the fiscal year 2018 National Defense Authorization Act. She has since secured $20 million for the study, which will be conducted by the ATSDR.
Thousands of people who work at Pease International Tradeport, and children who attended two day cares there, were exposed to PFAS chemicals in the now closed Haven well, which is owned by the city of Portsmouth.
In addition to being a suspected carcinogen, ATSDR states PFAS exposure can harm childhood development, increase cholesterol levels, hurt the immune system and interfere with the human body's hormones.
Portsmouth firefighter Russ Osgood stated in September that no firefighters anywhere will be included in the health study.
He understood why the ATSDR is not including firefighters, because of the other carcinogens they are exposed to do while doing their jobs.
"As much as I'd like to see the firefighters included, I kind of understand it," Osgood said. "If they put firefighters in there it could throw off all the numbers."
But he believes there should be a separate firefighter study to determine "why we're getting these cancers."
"We've had exposures to all kinds of things," he said during a previous interview.
Since the announcement by the ATSDR, Lazenby has been working with Osgood, Fire Chief Steve Achilles and Portsmouth resident and activist Andrea Amico to push for a separate study on firefighters.
"I feel like it is something we need to pursue, I think it's an important issue and conducting a study is the right thing to do to help them find out what's going on," Lazenby said. "It's easy to imagine that our firefighters are not the only ones in this situation."
In the letter Lazenby drafted that he hopes the council will support, he states that "ATSDR indicated that in addition to drinking, cooking and bathing with the contaminated water, our firefighters have additional occupational exposure to various classes of PFAS through firefighting equipment and suppression agents."
"On behalf of Portsmouth firefighters, who we value as employees, residents and members of our community, we urge you to act on this with urgency," Lazenby's draft letter states.
The regular portion of Monday's City Council meeting is scheduled to start at 7 p.m. and will be held in City Council Chambers in City Hall.
Copyright 2018 Portsmouth Herald
McClatchy-Tribune News Service