As Texas firefighter is laid to rest, questions persist over his death
The body of Arlington Firefighter Elijah Snow was returned to the U.S. after his death while on vacation at a Mexican resort
---
By Jessie Forand
ARLINGTON, Texas — A firefighter who died while on an anniversary vacation with his wife in Mexico was laid to rest this week.
Read more: Texas firefighter accidentally asphyxiated in window, Mexican authorities conclude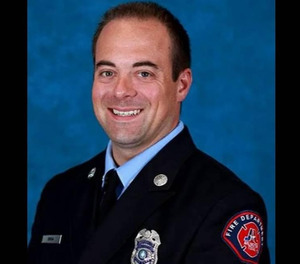 The body of Arlington Firefighter Elijah Snow was returned to Texas after he died of accidental asphyxiation, according to Mexican authorities.
However, questions remain about the circumstances surrounding Snow's death, WFAA reported.
A statement from Quintana Roo, the Mexican state Attorney General's office, said he died after being trapped in a window as he tried to enter a bathroom at a Cancun hotel, separate from the one he and his wife were staying.
It is unknown why Snow was at the hotel where he died.
His family is working with an independent investigator, according to WFAA.
During the funeral service, Snow's family and friends remembered him as a devoted father, friend and public servant, WFAA reported.
"He was the life of the party," said fellow Arlington Firefighter Nick Zelinski, who attended the fire academy with Snow. "He was constantly smiling and poking fun of the guys. You knew if you were working with Elijah it was going to be a good day, because he loved being a firefighter."
Snow came from a firefighting family. His father was also an Arlington firefighter, who died during in the line of duty in 1985, WFAA reported.