Off-duty firefighter credited for rescuing 2 from burning plane
John Meffert was driving when part of the plane hit his car as it crashed on the freeway
---
Associated Press
LOS ANGELES — An off-duty fire captain who pulled two people from a burning plane after it crashed on a Southern California freeway says he's lucky to be alive.
John Meffert told reporters he was driving along Interstate 405 Friday morning when part of the plane hit his car as it crashed on the freeway. He says the plane was fully engulfed in flames after the crash.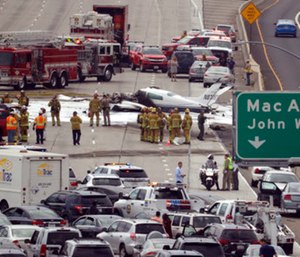 Meffert says he saw a woman pop her head up inside the plane and then made his way into the plane.
Meffert, who has been a firefighter for 17 years, pulled out the woman and the male pilot.
Federal officials said the pilot of the Cessna 310 had declared an emergency shortly after taking off Friday morning from John Wayne Airport and was attempting to return to the airport when he crashed.