Orlando firefighter: 'It was our finest hour of performance'
Lt. Davis Odell Jr. was stationed two doors from the Pulse nightclub and began treating victims as shots rang out
---
By Caitlin Doornbos
The Orlando Sentinel
ORLANDO, Fla. — When Lt. Davis Odell Jr. walked out of Fire Station No. 5 to observe the scene of an emergency call at the Pulse nightclub just two doors down, he knew this emergency was different than the countless others he'd seen in his 35-year career.
"I could see people just running like crazy and screaming across the street," Odell said. "In the time it took me to realize that these people were coming from the club, I heard this steady 'pow, pow, pow.' It was very methodical and very deliberate."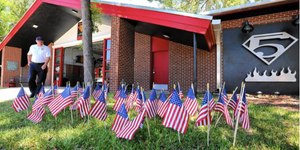 Odell is the first of 80 Orlando Fire Department employees who treated victims of the largest mass shooting in modern history to describe the events that unfolded from a first-responder's vantage point.
Throughout the intense three hours gunman Omar Mateen terrorized nightclub patrons June 12, Odell said first responders had to act in an air of uncertainty. Odell said they didn't know where the "madman" was or if he was just around the corner ready to turn those helping the wounded into victims themselves.
"I didn't realize I was going to hear an active shooting situation, which definitely reinforced this is very, very serious," Odell said. "You know every time he's shooting in there, that's somebody's kid."
With the sound of gunfire still ringing in his ears, Odell knew he couldn't send his firefighters into the night until police arrived.
"It is the ultimate responsibility of the company officer to get his guys and gals home safe the next day." Odell said. "We're not going out there until the scene is absolutely secure. I didn't know if he was right there in the intersection of Kaley and Orange shooting people."
Once he spotted an officer with an AR-15 in front of the station a minute later, he opened the doors to immediately find bloodied victims hiding from the shooter behind the brick walls of the firehouse.
"They were seeking shelter behind anything they could find," Odell said. "They were screaming and crying. They were beyond rattled."
That's when firefighters found the man Odell refers to as "Patient No. 1." Two bullets had torn through his abdomen, and he was fading in and out of consciousness. Firefighters dragged the man into the firehouse, laid him on the floor next to a fire engine and stabilized him.
The man's blood would remain on the floor until relief crews arrived hours later after the ordeal.
They treated two others at the station before moving across the street behind Einstein Bros.' Bagels where police and bystanders were carrying the wounded, Odell said.
"It put the building between the treatment and triage center and the Pulse--because [we thought] what if he comes out in a blaze of glory and starts shooting at people," Odell said.
Later, when Mateen claimed he had explosives, the triage scene was moved a few blocks north near Orange Avenue and Pennsylvania Street.
In total, OFD transported 26 patients to the hospital and bandaged many other walking wounded. They used 34 engines, trucks and trailers and 18 ambulances in the response. Since then, Odell said the department has not had a lull in activity, helping with clean-up, caring for investigators during hot days and transporting victims all while keeping up with the usual house fires, traffic accidents and medical calls.
Though the hours of crisis seemed "chaotic" and "fluid," Odell said the department's annual mass casualty and active shooter trainings prepared firefighters for proper response. Firefighters were given direction by the incident commander, Odell said, but many had to think on their feet to save lives.
"I saw the best in our personnel immediately and instinctively focus on those who could be saved," Odell said. "It was our finest hour of performance in the most unimaginable circumstance."
The department has another active shooter and mass casualty training scheduled for October, OFD spokeswoman Ashley Papagni said. The last one was in July 2015.
The OFD is one just 178 fire stations in the country with a coveted No. 1 rank with an independent national organization called the Insurance Services Office, which rates departments nationally based on training, equipment and preparedness. Odell said he saw that honor prove true on June 12.
"That No. 1 rating absolutely proved itself worthy of that recommendation," Odell said. "I left that morning thinking, 'Wow, we really did a good job.'"
Three days after the shooting, Odell told CNN the story of "Patient No. 1" and lamented not knowing if he survived. Since the interview aired, a friend of the first Pulse patient called Odell to tell him the man was recovering in the hospital and wanted the station to come visit.
"Very rarely do we get to follow-up on the patients," Odell said. "He was gravely wounded. According to his friend, he was minutes away from expiring. [Seeing him survive] just makes it all worth it."
Though Odell said the department should be proud of their efforts, the tragedy at the nightclub so close to their home base and the heartbreak of so many is not lost on the firefighters.
"Our happy little firehouse is never going to be the same," Odell said. "This was a national horror 300 feet from our firehouse. It was mind-blowing that he chose us. This is our neighborhood. Our city."
___
(c)2016 The Orlando Sentinel (Orlando, Fla.)