Scores gather outside Pulse nightclub to honor massacre victims
The service was closed to the public and was held for survivors, victims' families, club employees and local officials
---
By Mike Schneider
Associated Press
ORLANDO, Fla. — Scores of people gathered outside the perimeter of the Pulse nightclub Monday to pay their respects while inside the site's fences, the names of the 49 victims of the worst mass shooting in modern U.S. history were read out loud in a private service.
The early morning service was closed to the public and was held for survivors, victims' families, club employees and local officials. It overlapped the time a year ago that gunman Omar Mateen started shooting inside the nightclub on "Latin Night" a little after 2 a.m. on June 12, 2016.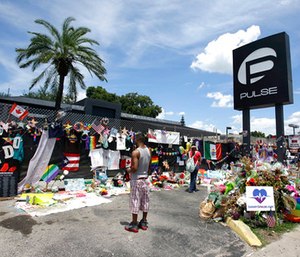 "I realize that gathering here in this place, at this hour, is beyond difficult," Orlando Mayor Buddy Dyer said during the service. "But I also know that the strength you've shown over the past year will carry you through today and in the future."
The private service was the start of what would be almost 24 hours of observations to remember the victims who died as well as the dozens of Pulse patrons who were wounded during the shooting. It would be followed by another midday service at the nightclub, an evening gathering in the heart of downtown Orlando and a final, music-filled late-night service at the nightclub.
Outside the perimeter at Pulse, where the fence has been decorated with vibrantly-colored banners, people laid flowers and lit candles early Monday. Supporters dressed as angels stood guard outside the club before the service.
Later in the day, church bells throughout the Orlando area were set to ring 49 times at noon.
Gov. Rick Scott ordered U.S. flags around Florida to be flown at half-staff and a giant rainbow flag would be unveiled at the Orange County government building.
Monday's services culminated several days of events aimed at turning the grim anniversary into something positive. A foot race was held over the weekend, and eight gay and lesbian students were awarded $4,900 toward their college studies by a local businessman. Local officials have declared the one-year mark as a day of "love and kindness," and they are encouraging residents to volunteer or perform acts of compassion.
An exhibit of artwork collected from memorial sites set up around Orlando after the massacre will be shown at the Orange County History Center. The club's owner, Barbara Poma, is developing plans to build a memorial at the Pulse site.
Mateen pledged allegiance to the Islamic State during the attack and was eventually killed by police during a shootout after a three-hour standoff. His wife, Noor Salman, is facing charges of aiding and abetting and obstruction in federal court, and she has pleaded not guilty to helping her husband.